(CNN) -- NATO countries must create a comprehensive approach to oust al Qaeda, the Taliban and other extremists from Afghanistan and Pakistan, U.S. Vice President Joe Biden said Tuesday after a meeting with NATO members.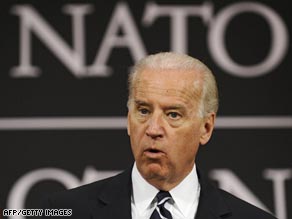 Joe Biden said he heard the concerns and priorities of NATO allies.
"The imperative of a comprehensive approach with a strong civilian and diplomatic effort is necessary because we know there is no purely military solution to either Afghanistan or Pakistan," Biden told reporters at a news conference after the sessions at NATO headquarters in Brussels, Belgium.
The vice president was consulting with members of the North Atlantic Council, the main decision-making body within NATO, ahead of a NATO summit April 3-4 in Germany and France.
"I heard from our allies. I heard their concerns, and they listed their priorities," said Biden, who was accompanied at the news conference by NATO Secretary-General Jaap de Hoop Scheffer.
"We had a very good meeting. There was an incredible amount of consensus around the table," Biden added. "I came away with a much clearer sense of what our NATO friends would like us to consider."
The vice president told council members that the "deteriorating situation" in the Afghanistan-Pakistan region poses a security threat to the nations they represent.
"It was from that very same area that extremists planned virtually every major terrorist attack in Europe since 9/11, including the attacks on London and Madrid," Biden said.
The vice president said he also asked country representatives to submit further concerns and observations about Pakistan and Afghanistan to U.S. officials so they can be included in a report on the region requested by President Barack Obama.
The review will be given to him before the end of March, Biden said.
The vice president was asked about Obama's recent comments suggesting that the United States could be open to reaching out to some moderates in the Taliban, in a manner similar to successful efforts with Sunni militants in Iraq.

"Whatever is initiated will have to be ultimately initiated by the Afghan government and be such that it doesn't undermine the Afghan government," Biden said. "It's worth engaging to determine whether there are those that are willing to participate in a secure and stable Afghan state."
Biden said that according to Richard Holbrooke, the U.S. special envoy to Afghanistan and Pakistan, that 5 percent of the Taliban are incorrigible, about 25 percent are unsure about the intensity of their commitment to the insurgency, and about 70 percent are involved because of the money they receive.
E-mail to a friend

All About NATO • Afghanistan • The Taliban • Al Qaeda • Pakistan