PARIS, France (CNN) -- President Nicolas Sarkozy of France will put his government on the line over his decision to bring the country back into NATO's integrated military command, more than 40 years after it walked out.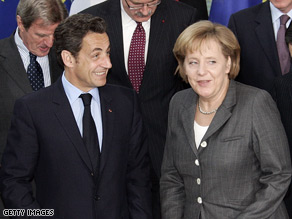 Nicolas Sarkozy with Germany's Angela Merkel at a meeting of the German-French council of ministers
French lawmakers will vote Tuesday on whether to support Sarkozy's move, which he announced officially on Wednesday.
If they do not back him, they could theoretically force government ministers to resign en masse.
But Sarkozy's party holds a majority in parliament, and although some lawmakers in his own party are unhappy with the move, it is thought unlikely that they will vote against the president.
Sarkozy said in a speech Wednesday he wanted French military officers to become part of NATO's command structure.
"I warmly welcome the French president's choice," NATO Secretary-General Jaap de Hoop Scheffer said Wednesday after Sarkozy's speech.
"His move represents both the culmination of a steady rapprochement with NATO on France's part over the last 15 years and a new boost to relations between France and the Alliance.
Don't Miss
"France has always been an important ally within NATO; its current contribution to operations and missions is crucial. Its full participation in all the civil and military decision-making and planning processes cannot but strengthen the Alliance further," the NATO leader said.
French leader Charles de Gaulle pulled France out of the alliance's integrated military command in 1966, 17 years after France co-founded the North Atlantic Treaty Organization with 11 other countries.
De Gaulle said the United States had too much influence in NATO, which was founded in the early days of the Cold War to defend Europe from the Soviet Union.
His decision meant no French forces could be under permanent allied command and that France would have no participation in defense planning.
In 1995, France rejoined NATO's military committee, which advises NATO's political authorities on military policy and strategy and provides guidance on military matters to NATO's strategic commanders. It contributes troops and funding to NATO activities, including KFOR in Kosovo and ISAF in Afghanistan.
NATO is holding celebrations in France and Germany next month to mark its 60th anniversary, which U.S. President Barack Obama and other NATO country leaders are expected to attend.
E-mail to a friend

-- CNN's Sujatha Samy in Paris contributed to this report.
All About NATO • France • Nicolas Sarkozy