By Ivan Watson
CNN





ISTANBUL, Turkey (CNN) -- Investigators discovered part of a human skull and other remains at a site in southeastern Turkey where the bodies of Kurdish victims of alleged extrajudicial killings are suspected to have been doused in acid and buried, Turkey's state news agency was reporting Friday.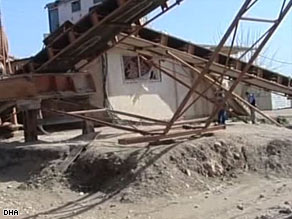 Investigators are searching the site of an oil well where Kurdish people who disappeared may be buried.
"In the evening hours, a piece of a bone that belongs to a human skull has been found," said Nusirevan Elci, a member of the Sirnak Bar Association who has been monitoring the investigation. He was speaking to Anatolian Agency, Turkey's state news agency.
"Today, in addition to this skull fragment, six other bones and one sock have also been found. They will be sent to forensic labs in Istanbul for examination."
Speaking on condition of anonymity, a police officer working in Silopi, the border town where the investigation was launched earlier this week, told CNN that the piece of human skull was found at a depth of approximately 13 meters in what local media have referred to as an "acid well."
Since bulldozers began excavating the site, investigators have discovered a number of bones, as well as remnants of hair and human clothing. Authorities are doing forensic analysis to determine whether the bones are human.
This is the first investigation of its kind into the whereabouts of Kurds who disappeared during the long war between Turkish security forces and rebels from the Kurdistan Workers' Party, or PKK. Some 30,000 people, mostly ethnic Kurds, were killed during the conflict, which has simmered since 1984. No international human rights organizations have estimates of the number of Kurds who disappeared and are presumed dead.
The Turkish military announced Friday that Turkish warplanes carried out airstrikes against suspected PKK targets in the mountains of northern Iraq on Thursday.
The Turkish military has been carrying out airstrikes against PKK camps periodically over the last year. The targets are typically in remote mountains, on the Iraqi side of the Turkish-Iraqi border.
Earlier this week, the Turkish military announced it would establish a series of "temporary security zones" along the border that are to be effective no-go zones from March 15 to June 15.
The announcement prompted speculation that plans for a Turkish cross-border ground operation could be in the works.
Last winter, thousands of Turkish soldiers crossed the border and advanced several miles into Iraqi territory, where they fought pitched battles with Kurdish rebels. The Turks withdrew several days later, after claiming to have killed hundreds of PKK guerrillas. According to official Turkish figures, at least 24 Turkish soldiers were killed in the operation.
Since then, Kurdish rebels have mounted several deadly attacks against Turkish security forces, including a strike against a border post in October that left at least 15 soldiers dead.
The rebels say they are fighting for the cultural and language rights of Turkey's long-oppressed Kurdish minority. For decades, the Turkish state denied the existence of Kurds, calling them "mountain Turks."
For the first time this year, however, the Turkish government launched a state Kurdish language TV channel called TRT Shasht, which means "6" in Kurdish.

The current investigation into the alleged acid well is taking place near property owned by BOTAS, Turkey's state petroleum pipeline company.
Investigators planned to dig until midnight local time on Friday.
E-mail to a friend

All About Turkey • Kurdistan Workers' Party