LONDON, England (CNN) -- A group of British politicians is trying to force the government in London to talk to Hamas, the militant Palestinian movement considered a terrorist organization by the United Kingdom, one of the politicians told CNN.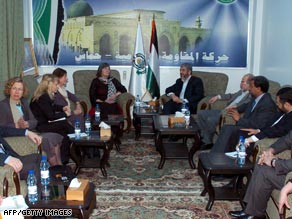 Khaled Meshaal (center right) meets British and EU lawmakers, headed by Clare Short (center left), in Damascus on Saturday.
Baroness Jenny Tonge, a member of the House of Lords, met the political leader of Hamas, Khaled Meshaal, in Syria along with other British politicians on Saturday, she said.
"There are many politicians in Britain... who are increasingly frustrated that Hamas are not included in talks about peace," she told CNN by phone from the Syrian capital of Damascus.
"If we can get enough of them to talk to Hamas, we may be able to force the British government to talk to Hamas," she said. "We want the Brits and the European Union to put pressure on the United States" to meet Hamas as well.
Hamas controls Gaza and has fought Israel throughout its 21-year history. The United States and European Union consider it to be a terrorist organization, as does Israel. Tony Blair, the former British prime minister who is now an international peace envoy for the Middle East, refused to meet Hamas officials when he visited Gaza at the beginning of the month.
But Tonge insisted that the international community must include Hamas in dialogue.
"The way we got around the Northern Ireland situation was by talking to the IRA," she said of the Provisional Irish Republican Army, which waged a violent campaign against British control of Northern Ireland for decades before a peace agreement was signed.
"You don't make peace by talking to your friends. You make peace by talking to your enemies," she said.
Tonge, a member of the opposition Liberal Democrat party, has been an outspoken critic of Israel.
She said she was aware that her meeting with Meshaal could be considered illegal and that she could face arrest on return to the UK.
"That is one of the risks that you take," she said.
CNN's Beirut Correspondent Cal Perry revealed earlier this month that another group of British lawmakers had secretly been meeting for two years with both Hamas and the Lebanese militant group Hezbollah.
Blair was aware the meetings were taking place when he was prime minister, a source familiar with the discussions said.
"Without explicitly approving the meetings, he did not direct that they not take place," said the source, whose role in the process must remain secret for diplomatic reasons.
Blair's office did not respond to a CNN request for comment.
Don't Miss
The most recent meetings took place in Beirut, Lebanon, at the end of January, said Michael Ancram, one of the legislators involved, and another member of parliament sat down with Nawaf al-Moussawi, Hezbollah's head of international relations, Ancram said. Hezbollah is a Shiite group that wields significant power in Lebanon and has skirmished with Israel for years.
They met separately with Usama Hamdan, the Beirut spokesman for Hamas, Ancram said.
Ancram, a lawmaker for the UK's opposition Conservative party, also quietly traveled to Damascus in June of last year as part of a delegation that met with Meshaal.
Ancram described his meetings with Hamas and Hezbollah as "constructive and informative," and said he felt the talks "indicated ... that there was the basis for further dialogue."
The lawmaker said he was not representing anyone in his meetings.
"I've been acting on no one's behalf but my own," said Ancram, a former chairman of the Conservative party who has been the party's top spokesman on both foreign policy and defense while the Conservatives have been in opposition. He was also the minister for Northern Ireland in the mid-1990s when the Conservatives were in power, and was the first minister to meet the Northern Irish Republican party Sinn Fein.
"I believe, however, that dialogue with Hezbollah and Hamas will inevitably become necessary at an official level if a Middle East settlement is to be reached," he said.
E-mail to a friend