(CNN) -- The Czech prime minister canceled a vote to allow the United States to put a key part of its planned missile defense system in the Central European country, the government announced late Tuesday.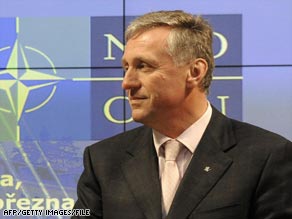 Prime Minister Topolanek at a NATO event in the Czech capital this month.
Prime Minister Miroslav Topolanek said he called off the vote for fear his government would lose but added he could still put the two treaties up for a vote in parliament at a later date.
U.S. plans to put components of the planned missile defense system in the Czech Republic and Poland have aggravated Russia.
U.S. President Barack Obama and Russian President Dmitry Medvedev have been trading public statements about the proposal in an apparent effort to ratchet tensions down.
But earlier this month, Obama denied reports of a U.S. offer to kill the missile defense system in exchange for Russian assistance in preventing Iran's acquisition of nuclear weapons.
Obama conceded he had sent Medvedev a "very lengthy letter talking about a whole range of issues," including nuclear proliferation and terrorism, but he asserted that no quid pro quo had been offered regarding the proposed defense system in eastern Europe.
"What I said in the letter was that, obviously, to the extent that we are lessening Iran's commitment to nuclear weapons, then that reduces the pressure for -- or the need for a missile defense system," Obama said.
"It was simply a statement of fact that I've made previously, which is... that the missile defense program, to the extent that it is deployed, is designed to deal with not a Russian threat, but an Iranian threat."
Obama warned, however, that while the United States needed to "reset or reboot" its relationship with Russia, Russian leaders also needed "to understand our unflagging commitment to the independence and security of countries like a Poland or a Czech Republic."
Both Poland and the Czech Republic are members of NATO and the European Union but were members of the Russian-led Warsaw Pact -- although the Czech Republic at that time was part of Czechoslovakia.
U.S. Defense Secretary Robert Gates made similar comments the same day, March 3.
He said Washington is open to starting a new dialogue with the Russians and working with them to persuade the Iranians not to go ahead with their ballistic missile program.
"I told the Russians a year ago that if there were no Iranian missile threat, that there would be no need for the (missile defense system) in Europe," Gates said.
Iran has denied it has a nuclear weapons program. It insists that its nuclear program is entirely peaceful and intended to produce nuclear power for the Islamic republic.
E-mail to a friend

All About Czech Republic • Military and Defense Policy