(CNN) -- Sunday's presidential election in Macedonia was free of the violence which marred last year's parliamentary vote in the former Yugoslav republic, election observers said on Monday.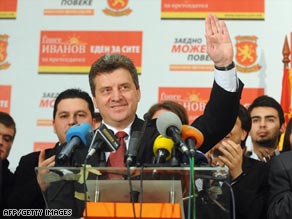 Gjorge Ivanov looks set to go into a runoff vote as frontrunner for the Macedonian presidency.
Peter Eicher, who headed the Organization for Security and Cooperation in Europe-led monitoring group to the Balkan nation, said the voting process had been peaceful and generally well managed.
"The first round, despite some issues of concern, represents an important step forward. We will be watching closely for continued progress in the second round," Eicher said.
Conservative candidate Gjorge Ivanov of the ruling VMRO-DPMNE party leads his rivals with most votes counted, the State Election Commission said Monday. But with no candidate set to gain an overall majority, Macedonians are set to go to the polls again in a runoff vote on April 5.
Ivanov had 35 percent of the vote with Ljubomir Danailov of the Social Democratic Union of Macedonia currently in second place with 20 percent.
The election is seen as crucial to the former Yugoslav republic's prospects of joining NATO and the European Union after parliamentary elections last June were marred by violent clashes, prompting criticism from election observers and international concerns over the country's stability.
Around 300 observers were deployed across Macedonia Sunday to monitor the election. In its preliminary report, the OSCE said the vote had met most international standards, despite concerns about procedural irregularities and the counting process.
"It is a pleasure for me to see that this country has made a number of steps along the democratic road that it returned to during the rerun of the elections last summer," the OSCE's Pia Christmas-Moeller said.
"Irregularities and a lack of trust remain -- and these must be dealt with -- but there is no doubt that you have made further progress in holding elections according to international commitments."
Macedonia has been at loggerheads over its name for 17 years with Greece, which blocked its entry to NATO last year over the dispute.
Greece claims that the name "Macedonia" implies territorial ambitions on the Greek province of the same name. Macedonia denies it. The two countries have taken their dispute to the International Court of Justice.
E-mail to a friend