(CNN) -- The Czech government lost a confidence vote in parliament Tuesday, forcing the prime minister and his Cabinet to resign, Czech media reported.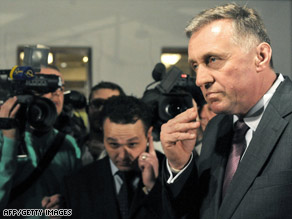 Czech Prime Minister Mirek Topolanek's center-right government lost a confidence vote 96-101.
The center-right government of Prime Minister Mirek Topolanek lost the vote 96-101, the Czech daily Mlada fronta Dnes reported.
Key votes against the government were cast by a member of the prime minister's ruling Civic Democratic Party (ODS), and three other members of the ODS' ruling coalition -- a former member of the party and two former Green Party members, the Czech News Agency (CTK) reported.
ODS deputies immediately moved to expel Vlastimil Tlusty from the ODS deputies' group for his vote of no confidence, group chairman Petr Tluchor said, according to CTK. Tluchor also said the group would expel deputy Jan Schwippel, who also voted against the government but left the ODS deputies' group on his own last year.
"The deputies' group considers voting along with the Communists and Socialists for a no-confidence in the government led by the ODS incompatible with membership in the ODS and recommends that the ODS executive council take all necessary steps to expel deputies Tlusty and Schwippel from the Civic Democratic Party," Tluchor said.
The Central European country currently holds the rotating presidency of the European Union, but the vote is not expected to affect that.
According to a statement from the Czech presidency on the EU Web site, Topolanek accepted the result of the vote.
"I will adhere to the constitutional order," the prime minister said.
The Czech constitution requires Topolanek to submit his resignation to President Vaclav Klaus, who will then appoint someone else to form a new government.
But Tluchor told CTK that the ODS expects Klaus to appoint Topolanek to form the new government, adding that the ODS would not support a non-political caretaker government.
E-mail to a friend

All About Czech Republic