LONDON, England (CNN) -- Budget-conscious celebrity chef Jamie Oliver has been hired to cook for G20 leaders in London next week, nearly a year after they provoked outrage by eating an eight-course meal while discussing the global food crisis.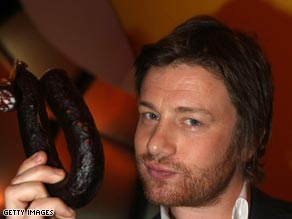 Jamie Oliver is devising the menu leaders will eat at the first night of the G20 meeting in London.
Oliver's company will feed the leader's at Prime Minister Gordon Brown's residence, 10 Downing Street.
Leaders at last July's G-8 meeting drew heavy criticism for enjoying an eight-course meal featuring 19 dishes while they were meant to be discussing how to ease global food shortages.
This year they appear to have learnt their lesson.
Essex, England-born Oliver says he is planning a seasonal menu that will showcase "the best of British" for the international guests, his company said.
The menu will be unveiled April 1, the day before the summit, when G20 leaders will dine at 10 Downing Street.
Oliver will be joined by a team of young chefs from his apprenticeship program at Fifteen, the London restaurant he founded in 2002.
"It's always a huge honor to cook at No.10 (Downing St.), but to be invited to cook for such an important group of people who are trying to solve some of the world's major problems, well that really is a privilege," Oliver said.
"I'm hoping that the menu I'm working on will show that British food and produce is some of the best in the world but also show that we have pioneered a high quality apprentice scheme at Fifteen."
Fifteen London is owned by a charity that uses the restaurant's profits for an apprentice program. Young people who have been homeless or in trouble with the law are recruited to work in the program and get a second chance at life.
Oliver is known for his healthy, low-budget approach to cooking with local ingredients. In addition to his restaurants, Oliver has published cookbooks and hosted TV cooking shows, including "The Naked Chef," which was about hearty, simple food.

Watch protesters prepare for G20 »

He also had a British TV series in 2006 that aimed to make school lunches more nutritious while keeping costs low. Currently he is the spokesman for a chain of British supermarkets, showing families how to cook an entire dinner for £5 ($7.37).
Oliver has cooked at Downing Street twice before -- once for former British Prime Minister Tony Blair and Italian President Massimo D'Alema in 2000, and for Blair and Irish Premier Bertie Ahern in January 2003.
E-mail to a friend