By CNN's Ivan Watson





ELAZIG, Turkey (CNN) -- The yellow bus with a giant photo of the prime minister on its side raced through Elazig, a provincial town in eastern Anatolia, blaring patriotic music.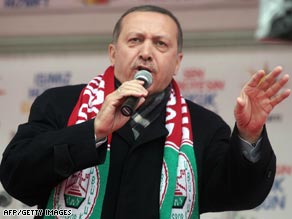 Recep Tayyip Erdogan campaigning in Diyarbakir last month.
Crowds of cheering locals, some of them women dressed in robes and veils, lined the dusty streets, straining to get a glimpse of Recep Tayyip Erdogan as he waved through the windshield.
Suddenly, Emine Erdogan, the prime minister's wife, gasped in shock. A woman and child had thrown themselves in front of the bus. The driver brought the vehicle to an abrupt halt.
Moments later, a crowd of well-wishers pushed past a phalanx of security guards to the door of the bus, desperate to kiss Erdogan's hand in a traditional show of respect. He kissed an elderly mustached man on both cheeks, before the motorcade sped on down the road.
This is the kind of chaos that accompanies Erdogan on the campaign trail. On March 29, Erdogan's ruling Justice and Development Party (AKP) is due to compete in municipal elections. Political analysts view the contest as a referendum on Erdogan, the most popular, powerful and polarizing politician of his generation.
"He'll be remembered as one of the strongest politicians Turkey has had since the Second World War," said Hugh Pope, co-author of "Turkey Unveiled" and Turkey project director with the International Crisis Group.

Watch a profile on Erdogan »
"He came in after 15 years of coalition governments which were inherently weak and unable to get a grip on the country," said Pope. "That's been both the plus and the problem with the last seven years."
Erdogan's party swept to power in 2002 on a promise to get Turkey into the European Union. Under AKP, Turkey's once crisis-prone economy has enjoyed solid growth. In 2007, the party won re-election by a landslide, winning a 47 percent share of the vote.
Don't Miss
But Erdogan's premiership has also been marred by an ongoing struggle between his government and this overwhelmingly Muslim country's secular establishment.
Turkey's powerful military chiefs have publicly clashed with the prime minister and last year AKP was nearly banned after the Constitutional Court ruled it was a "focal point of anti-secular activity."
Onur Oymen, a leading member of the main CHP opposition, accuses Erdogan of allowing the "rapid Islamization" of Turkey's strict secular system.
"He will be considered as a person who wanted to change the basic elements of Turkish society," Oymen said. "To turn a secular democratic republic into a sort of Islamic society."
Erdogan insists he gave up political Islam in 1999, after serving a prison sentence for reading an Islamic poem in public. At the time, he was mayor of Istanbul for AKP's more overtly Islamist predecessor, the Welfare Party.
It was in prison, Erdogan told CNN at his party headquarters in Ankara., that he and colleagues started brainstorming about the creation of a new political force at the center of Turkish society.
"We have never been a party of extremes," Erdogan said. "We represent the center in politics, neither the right nor the left."
A decade later, flag-waving men and children sprinted alongside the campaign bus of the former prisoner who now runs the country.
Part of Erdogan's appeal is that he connects with ordinary Turks, peppering his performances with the street talk of a childhood lived in a working class Istanbul neighborhood where Erdogan, the son of a sailor, sold bread and water to pay for school books.
"I well understand the language of the masses," he said. "If you don't read the souls of the people and the conditions they live in, you won't understand. I have experienced this myself, so I know."
But Erdogan's hot temper has led some to question his democratic credentials.
On several occasions he has sued cartoonists who drew him in the shape of animals. Last fall, the prime minister's office revoked press accreditation for five newspaper reporters considered critical of his government.
And in January, the Turkish leader attracted international attention when he stormed off stage at the World Economic Forum in Davos during a debate with Israeli president Shimon Peres over Israel's military offensive in Gaza.
At AKP rallies, "One minute!" -- which a red-faced Erdogan yelled at the moderator of the debate in halting English -- has become a rallying cry for supporters who call him the "Conqueror of Davos."
"After Davos, Erdogan became very popular in the Muslim world," one of his top aides boasted on a recent flight aboard the prime minister's plane. "He has the power to topple governments now!"
On the international stage, Erdogan has also transformed Turkey's relations with neighbors with whom it has not traditionally seen eye to eye.
Ankara has dramatically improved ties with Syria and Iraq. The Turks and the Iraqi Kurds, who almost came to blows in 2003, have put aside angry rhetoric. This month, Turkish President Abdullah Gul, a key Erdogan ally, held formal talks with Nechirvan Barzani, the prime minister of semi-autonomous Iraqi Kurdistan.
Meanwhile, direct flights have begun between Turkey and Armenia despite a lingering dispute over Turkey's refusal to recognize as genocide the killings of ethnic Armenians in the final days of the Ottoman Empire.
Next month Erdogan has the chance to improve relations with the head of another government with which Turkey's relations have not always been entirely cordial.
Barack Obama's two-day visit to Turkey offers a chance for both NATO members to repair a relationship that was strained in 2003 when lawmakers in Ankara blocked U.S. plans to attack Iraq from Turkish territory.
Erdogan told CNN that Obama's intention to close Guantanamo Bay and his Persian New Year's message to Iran had sent positive signals to the turbulent region.
"We have one expectation for Mr. Obama with regard to the Middle East," Erdogan said. "He should be the voice of the silent majority and guardian of the disenfranchised."

This is clearly how the prime minister from the tough streets of Istanbul views himself. In Elazig, where ramshackle huts and wandering chickens border the town's main boulevard, a crowd of thousands erupted into cheers when Erdogan shouted on stage, "I love the oppressed!"
They cheered again when he shouted this challenge to his political opponents: "We will bury them in the ballot box, by democratic means!"
E-mail to a friend

All About Recep Tayyip Erdogan • Turkey