PARIS, France (CNN) -- French President Nicolas Sarkozy wants a "real transformation" of international financial regulations out of this week's G-20 summit in London, a spokesman said Tuesday amid reports that Sarkozy will walk out of the gathering if he's not satisfied.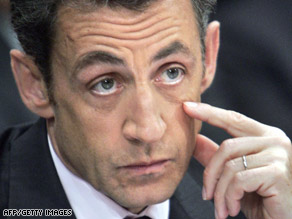 French President Nicolas Sarkozy seeks "stronger rules" for international commerce, a spokesman says.
"President Sarkozy thinks that this summit is of the utmost importance for the whole world," Sarkozy spokesman Jean-David Levitte said Tuesday. "We cannot fail."
The G-20 -- financial leaders from 19 nations and the European Union -- begins meeting Thursday in London. The global monetary crisis is expected to be the central issue.
News outlets throughout Europe on Tuesday were reporting that Sarkozy would leave the summit or otherwise disrupt it if he doesn't feel members are seriously addressing business regulation, a crackdown on tax havens and other matters related to the world market. iReport.com: Do you live in a G-20 nation? Share your story
Top aides to the president would not directly confirm his plans, but suggested in several reports that Sarkozy is considering some sort of action.
"A basic rule with nuclear deterrence is that you do not say at what point you will use the weapon," Xavier Musca, Sarkozy's deputy chief of staff, told the London Times.
Levitte said Sarkozy wants to see "better rules, stronger rules" governing international commerce. That would include monitoring bonuses and salaries of financiers, overseeing accounting of major institutions and better monitoring of countries where corporations are able to establish home offices to avoid paying taxes in G-20 nations.

Watch faces of the economic crisis in France »
"All this is very technical in nature, but if we act decisively it means a real transformation of the way capitalism is functioning," Levitte said. "And hopefully, we will make sure through these decisions that what happened will not happen again."
Simon Johnson, the former chief economist with the International Monetary Fund, dismissed the potential for a walkout by France, saying the threat likely was leaked as an act of showmanship as the summit approaches.
"It would be a disaster. It would be taken very badly by financial markets," said Johnson, now an economics professor at MIT. "I'm sure it's done for a domestic audience -- a little bit of chest-beating."
Johnson said that it's folly to expect many sweeping changes out of the summit. On his blog, The Baseline Scenario, he writes that an outline of the meeting's goals shows that "the G-20 punts on most of the big issues."
But he pointed to a handful of possibilities -- including the chance that the group will go along with a U.S. plan that would dramatically increase funding for the IMF. The IMF works to stabilize the economies in poor and developing countries by providing loans and through other means.
"It's better than nothing -- it's better than a kick in the teeth," he said. "That's the spirit with which you should approach these things.
"You don't usually get summits with drastic results."
On Tuesday, British Prime Minister Gordon Brown said G-20 leaders need to reshape the global economy to reflect world values.
"Instead of a globalization that threatens to become values-free and rules-free, we need a world of shared global rules founded on shared global values," Brown said.
U.S. President Barack Obama arrived in London for the summit on Tuesday, making his first visit to Europe since taking office.

View the Obama itinerary of his trip to Europe »
There, he'll pitch on the world stage the economic-recovery package he recently pushed through Congress.

"I think it's likely that we will come out of the G-20 with very broad agreement on measures that have to be taken to address the global recession," White House spokesman Robert Gibbs told reporters on Air Force One.
Afterward Obama will visit France, Germany, the Czech Republic and Turkey to wrap up an eight-day trip.
E-mail to a friend

CNN's Jim Bitterman and Doug Gross contributed to this report.
All About Nicolas Sarkozy • Economic Crisis • France