LONDON, England (CNN) -- French President Nicolas Sarkozy insisted Wednesday that new financial regulation is a "non-negotiable" aim of the G-20 Summit in London, as world leaders gathered for the event.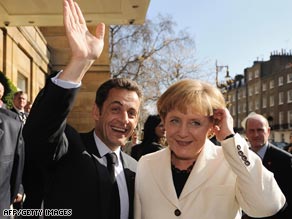 President Nicolas Sarkozy and Angela Merkel say financial regulation is not open to negotiation.
Sarkozy, who is reportedly considering walking out of the meeting if it fails to live up to his demands, says he wants "major reform of financial regulation" with tax havens and hedge funds first in the firing line.
Earlier, U.S. President Barack Obama said world leaders meeting at the G-20 summit "cannot afford half-measures" as they try to hammer out ways to address the global financial crisis.
Criticizing tax havens, Sarkozy said: "We want to be able to establish a clear map of money flows. We want to know exactly where the money is, where it goes, and by what routes."
He also called for "hedge funds to be registered and controlled." "We can accept debate on the extent of the regulation, but we cannot tolerate any longer the institutions being beyond control," he said.
Fact Box
This week's London Summit brings together the leaders of the world's 20 largest economic powers, known as the Group of 20, to discuss the global financial crisis and decide new measures to set the world on a more stable economic footing.

"We are in a great crisis. People are suffering, and people who are suffering have got nothing to do with the origins of the crisis."

German Chancellor Angela Merkel echoed his words in their joint press conference. "We're not negotiating here. We want regulation, and all those who don't understand that are walking toward another crisis," she said.

Speaking after a morning meeting with British Prime Minister Gordon Brown, Obama said G-20 delegates have "a responsibility to act with a sense of urgency" and come up with "tough new rules" for managing the world economy.

Watch more on Obama, Brown comments »
"We've passed through an era of profound irresponsibility," Obama said at a joint news conference. "Now, we cannot afford half-measures and we cannot go back to the kind of risk-taking that leads to bubbles that inevitably burst. So we have a choice: We either shape our future or let events shape it for us."
Leaders from the Group of 20, which represents the world's leading industrial and emerging economies, meet Thursday in London.
On Wednesday evening, they paraded into 10 Downing Street -- Brown's official residence -- for a dinner described as a working meeting. Read how a celebrity chef created a traditional menu
Obama said the summit cannot solve all the world's problems, but it can make "real and unprecedented progress."
Don't Miss
The two leaders praised the continuation of the "special relationship" between Britain and America, with Brown calling it resilient and constant.
"Ours is not an alliance of convenience -- it's a partnership of purpose," Brown said.
Brown called on world leaders to cooperate in achieving five tasks at the one-day summit, starting with restoring growth to emerging market economies and agreeing to "clean up" the global banking system.
There will be no sustainable recovery until a new regulatory system for the banks is put in place, Brown said.
Leaders must also commit to whatever is necessary to bring about the resumption of growth, Brown said. They must kick-start global trade and resist protectionism, he said, and lastly, they must make sure that economic recovery is low-carbon and sustainable so as to protect the environment.
"We have some tough negotiations ahead," Brown said. "It will not be easy, but ... the world does want to come together."

Watch more on Brown's G-20 »
Obama called on leaders to reject protectionism, support emerging markets, and put in place a sustainable financial structure.

"We have a responsibility to coordinate our actions and find a common ground, not to focus on our differences," Obama said.
The president added he was "absolutely confident" the meeting will reflect "enormous consensus" about the steps that are needed.
E-mail to a friend

All About Gordon Brown • G20 Industrial Nations