LONDON, England (CNN) -- Eight people missing from a fatal helicopter crash in the North Sea off Scotland are feared dead, police said Thursday.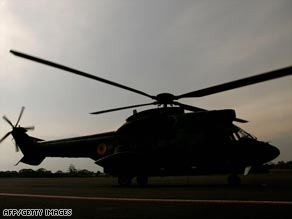 Super Puma helicopters are used to transport workers to oil and gas platforms in the North Sea.
The helicopter was carrying 16 people when it went down about 13 miles off Scotland's northeastern coast, officials said. Rescuers recovered eight bodies from the crash Wednesday.
"We are coming to terms with the fact that all might have been killed in the crash," a spokeswoman for Grampian Police told CNN.
She said there is no evidence that anyone survived.
Rescuers resumed searching Thursday morning for the eight missing people over a search area of 30 nautical miles.
Two lifeboats and seven other vessels, including ferries and fishing boats, were conducting the search Thursday, the Maritime and Coastguard Agency said.
There was good visibility and only a light breeze in the search area Thursday, a Coastguard spokeswoman said.
The company that operated the helicopter, Bond Offshore Helicopters, suspended all commercial flights Thursday, spokesman Dick Mutch said.
He said the cancellation was "as a matter of coming to terms with the tragedy" and was not an aircraft safety issue.
Don't Miss
The Bond AS332L Mark II helicopter that crashed Wednesday had been returning from the Miller Platform, a drilling operation in the North Sea, said Brian Taylor, who represents the drilling contractor.
Fourteen passengers and two crew members were on board, the Maritime and Coastguard Agency said. They included 10 members of the drill crew.
The bodies found Wednesday were in the water, not in the helicopter, said Suzanne Todd of the agency. All were wearing survival suits.
The helicopter was a Super Puma, the same type of chopper that ditched in the North Sea on February 18, Mutch said. The helicopters were different versions of the Super Puma, however, and the one that crashed Wednesday was an older model, he said.
In the incident in February, the Super Puma ditched about 120 miles east of Aberdeen while approaching an offshore platform, the Royal Air Force said. All 18 aboard were rescued without major injuries.
The cause of the latest crash was not clear, authorities said, noting that they had not yet recovered the wreckage of the craft. They did not say whether it sent a distress signal before going down.
E-mail to a friend

CNN's Per Nyberg contributed to this report.
All About North Sea • Oil Production and Refining