STRASBOURG, France (CNN) -- The Danish prime minister has told his party he is a candidate for NATO's top job, a spokeswoman for the party told Danish TV on Friday.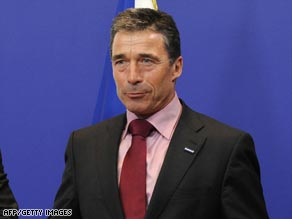 Rasmussen's possible candidacy for the NATO top job has prompted Turkish protests.
Anders Fogh Rasmussen announced his aspirations to the Liberal Party Friday morning, party spokeswoman Inger Stojberg said in an interview posted on Denmark's TV2 News Web site.
The prime minister's spokesman, Michael Ulveman, however, would not confirm the announcement to CNN.
Rasmussen's name has surfaced as a possible frontrunner to replace current NATO Secretary General Jaap de Hoop Scheffer when he steps down this summer.
But alliance member Turkey has expressed its objection to Rasmussen over his handling of the political cartoon debate and Denmark allowing a pro-PKK TV station, ROJ, to air from its soil.
A Danish newspaper published a series of political cartoons in September 2005 that depicted the Prophet Mohammed. That provoked ire among Muslims around the world because some Muslims believe the Quran forbids showing images of the prophet.
Though other newspapers reprinted the images months later as a matter of free speech, many protesters directed their anger at Denmark.
The PKK are Kurdish militants who have been fighting the Turkish government for a Kurdish homeland.
The process to choose the next NATO leader is confidential, so it is impossible to confirm details with the alliance.
De Hoop Scheffer told CNN on Friday that talks about his successor are going on and will be continued at this weekend's summit in France and Germany.
"When exactly a decision will be taken, when we can see a nomination, I quite honestly do not know and I do not want to know at the moment," Scheffer told CNN.
"But I can assure you that this is being discussed and, as always in NATO, there will be a consensual decision."
E-mail to a friend