LONDON, England (CNN) -- A police officer was suspended Thursday as part of the investigation into the death of a man during last week's G20 protests in London.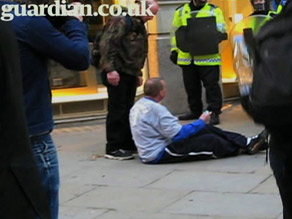 A video posted by the Guardian shows police shoving Ian Tomlinson to the ground. He later died of a heart attack.
The suspended officer is the constable seen in a video apparently pushing Ian Tomlinson to ground in an incident shortly before his death
Tomlinson, 46, was walking away from police and had his back to the officer when he was pushed.
The Independent Police Complaints Commission said Thursday it plans to interview the officer.
Tomlinson's son has said that his father was not taking part in the protests and was walking home from his job selling newspapers when the incident happened.
Tomlinson was able to walk away from the scene of the push, but a few minutes later he died of what an autopsy confirmed was a heart attack.
The IPCC announced an inquiry soon after Tomlinson's death. Late Wednesday, the commission said it had details of the officer involved.
"We are pleased that we now have what appears to be valuable information relating to this incident," Deputy Chairwoman Deborah Glass said in a statement. "Several police officers, including the officer himself, have come forward. It is our intention to interview this officer as soon as possible."
Don't Miss
Glass has said it is important for the commission to determine whether the officer's apparently unprovoked contact with Tomlinson had anything to do with his death.

Watch video showing police allegedly shoving man »
In addition to the video -- which was shot by an American visitor to London -- the commission is also reviewing surveillance camera footage from the area.

Top British politicians have called for a criminal investigation into Tomlinson's death.
Paul Stephenson, the commissioner for London's Metropolitan Police, which oversaw the G-20 security operations, has said the images in the video "raise obvious concerns" and that it is "absolutely right and proper that there is a full investigation into this matter."
E-mail to a friend

All About G20 Industrial Nations • London