By Mayra Cuevas-Nazario
CNN





(CNN) -- Alina Radu's newsroom in Moldova has turned into an impromptu safehouse for local journalists, as their attempts to cover massive anti-government protests this week have put them in danger in the former Soviet state.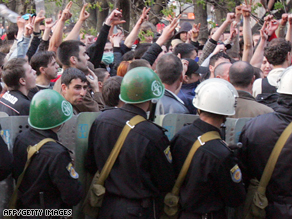 Protesters have been demonstrating against Sunday's election results in Moldova.
Radu, director of the Moldova's weekly newspaper, Ziarul de Garda, told CNN Friday that attacks from authorities against journalists are the worst she has seen in her 20 years of experience as a journalist.
She said more than 10 reporters were huddled in her newsroom, afraid to return home.
"A lot of journalists have been arrested," including Rodica Mahu, editor-in-chief of Jurnal de Chisinau, based in the capital, Radu told CNN in a phone interview Friday.
Mahu was released after two hours of questioning, but whether she would be charged with any offense was unclear.
"They accused me of preparing an armed attack and that my fingerprints were found on the stones that were thrown at the parliament building and the president's office," Mahu, referring to events Tuesday, told CNN late Friday over the phone from her office at Jurnal de Chisinau.
Mahu said she was detained after police watched her dictate details about a small demonstration at a Cabinet building in the morning. "I told them I was just doing my job as a journalist," she said.
"It is not normal that (a) journalist go missing in Moldova," she added.
Authorities began harassing journalists Thursday, when four journalists covering the arrests of protesters were attacked and their cameras destroyed, Radu said.

Images from the protests »
The journalists have been reporting on the demonstrators -- many of them students -- protesting Sunday's election results, which sparked violent riots in the capital, Chisinau.
The demonstrators claim the ruling Communist Party manipulated the results to make it appear that it had won 50 percent of the vote. A 50 percent majority would allow the party to select a new president and amend the Constitution.
On Friday, Voronin gave in to the protesters' demand for a full recount of the election results.
"The president wants to destroy any kind of democracy. He wants to control the minds and activities of everyone," said Radu. "My parents had seen this situation when Stalin was in power. This is a repetition."
Demonstrators turned out in unexpected numbers Wednesday, multiplied by social-networking tools such as Twitter and Facebook. An estimated 10,000 gathered Tuesday, a spontaneous mob called out to the central square in Chisinau. That followed protests on Monday that were peaceful.
For international journalists attempting to enter the country, the situation has been discouraging.

Reporters Without Borders, a journalism advocacy group, reported that 18 Romanian journalists working for local and international media outlets -- including Agence France-Presse, Associated Press and Reuters -- were denied access to Moldova.
"We condemn this unfair and dangerous decision by the Moldovan authorities," Reporters Without Borders said in a statement. "It not only hampers proper media coverage of what is taking place but it also exacerbates the tension between Moldova and Romania, fueling a nationalistic and aggressive discourse that could destabilize the situation even further."
E-mail to a friend

-- CNN's Igor Krotov and Samira Simone contributed to this report.
All About Moldova