(CNN) -- Polish authorities declared Tuesday a day of mourning after a massive hostel fire killed 21 people.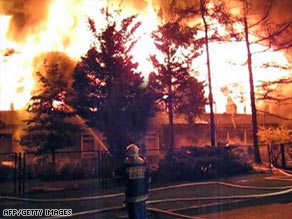 A firefighter struggles to control the raging fire at the homeless shelter in Poland.
The fire broke out early Monday at a three-story building in the town of Kamien Pomorski, said Marcin Rodak of the National Center for Coordination of Rescue Operations.
At the time, about 77 people were inside the building, said Jan Mikruta of the Polsat television station.
Forty-one people were rescued from inside the building, with 20 of them hospitalized, Rodak said.

Watch more about the blaze »
Officials do not know what caused the blaze at the hostel which housed underprivileged residents.

On Monday afternoon, firefighters were still looking for victims.
Polish Prime Minister Donald Tusk was at the scene of the damaged building, with the president expected to arrive later Monday.
E-mail to a friend