LONDON, England (CNN) -- British Prime Minister Gordon Brown suffered a stinging defeat in Parliament Wednesday, losing a vote over the right of Ghurkha veterans to settle in the United Kingdom.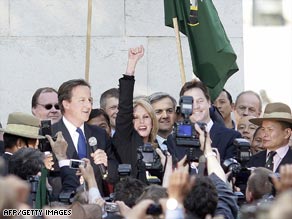 Actress and Gurkha rights campaigner Joanna Lumley celebrates the vote with Gurkhas and politicians.
It was the first time Brown has lost a vote in parliament since he became prime minister in 2007. Some members of his own Labour party voted against him on the measure, introduced by the opposition Liberal Democrats.
The vote was 267 to 246 on a motion to give all Gurkha soldiers equal right to live in Britain, the Liberal Democrats announced.
The Gurkhas are Nepalese soldiers who have been part of the British Army for nearly 200 years.
Brown last week proposed an expansion of the criteria under which Gurkhas would be allowed to live in the country, but critics said the new guidelines were still too restrictive.
David Cameron, leader of the main opposition Conservative party, said the vote represented a "historic day where Parliament took the right decision."
"The basic presumption that people who fight for our country should have a right to come and live in our country has been set out very clearly," the opposition leader said in a written statement.
Gurkhas have fought alongside the British Armed Forces in every conflict in that period, including both world wars, and are known for their ferocity and pride.
E-mail to a friend