By Al Goodman
Madrid Bureau Chief





MADRID, Spain (CNN) -- A Spanish judge Wednesday ordered an investigation into harsh treatment of prisoners at Guantanamo Bay under the Bush administration on suspicion that there was "an authorized and systematic plan for torture," according to a court document.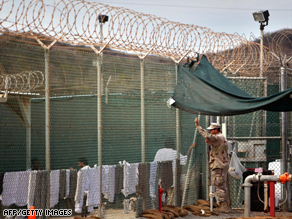 A guard leans on a fence talking to a detainee at Guantanamo earlier this year.
The case involves four former Guantanamo prisoners -- a Spaniard, a Moroccan, a Palestinian and a Lebanese -- who testified before the judge, Baltasar Garzon, that they had been tortured while held at the U.S. detention camp for terrorism suspects at Guantanamo Bay, Cuba.
Two of the four were acquitted in Spain of terrorism charges, while similar charges against two others were shelved, according to the 10-page court order from Judge Garzon on Wednesday, viewed by CNN.
The judge wrote there was sufficient evidence to open an investigation, based on the testimony from the four, plus news media reports about newly-declassified U.S. government documents.
The declassified U.S. documents, he wrote, revealed "an authorized and systematic plan for torture and harsh treatment of people deprived of their freedom without any charges and without the most basic elemental rights for detainees, set forth and demanded by international treaties."
The alleged plan at Guantanamo and other prisons, including a detention facility at the Bagram air base in Afghanistan, "acquire almost an official level and therefore generate penal responsibility in the different structures of execution -- command, design and authorization of this systematic plan of torture," the judge wrote.
Garzon wrote that he planned to formally request the declassified U.S. documents to incorporate them into the case.
Garzon's new case is separate from another potential investigation at the same National Court in Madrid, which could involve a probe into the actions of six former Bush administration officials, including former Attorney General Alberto Gonzales.
Garzon provisionally had that complaint -- which alleges the six former officials sanctioned torture at Guantanamo Bay. But the court has since assigned that case to a different judge, Eloy Velasco, who has yet to rule if the probe will continue or be shelved.
Spanish prosecutors have gone on record opposing the probe of the former Bush administration officials, saying that should be done, if at all, in the United States.
U.S. President Barack Obama, whose administration recently declassified documents relating to Guantanamo, has said he opposes prosecuting CIA operatives who may have conducted harsh interrogations at detention facility.
But Obama appeared to leave open the possibility that those who designed the legal framework for the techniques might come under closer scrutiny in the United States.
Garzon's latest case cites allegations of torture, while in U.S. custody, from the following men:
-- Hamed Abderrahman Ahmed, a Spanish citizen captured in Pakistan in 2001, who was later sent to Guantanamo. He arrived in Spain in 2004 and was acquitted of terrorism charges by Spain's Supreme Court.
-- Lhacen Ikassrin, a Moroccan who lived in Spain for 13 years. He was detained in Afghanistan in November 2001, sent to Guantanamo and delivered to Spain in July 2005, where he was acquitted of terrorism charges by the National Court.
-- Jamiel Abdul Latiff Al Banna, a Palestinian detained in Gambia in November 2002 by the United States military. He was sent to Guantanamo but was due to arrive in Britain in December 2007, prompting a Garzon arrest warrant.
-- Omar Deghayes, a Lebanese detained in Pakistan in April 2002, eventually arriving in Guantanamo but who was due to arrive in Britain in December 2007, also prompting an arrest warrant from Garzon.
The judge is Spain's best-known investigating magistrate for international human rights abuses. He issued a precedent-setting arrest warrant for former Chilean dictator Augusto Pinochet in 1998 while Pinochet was in a London hospital.
Garzon, in the latest case, asks another judge at the National Court, Ismael Moreno, to submit documents about Moreno's investigation into CIA flights allegedly carrying prisoners to Guantanamo that may have stopped on Spanish soil.
E-mail to a friend

All About Spain • Guantanamo Bay