(CNN) -- A gunman killed 12 people Thursday at a university in Baku, the capital of the former Soviet republic of Azerbaijan, before killing himself, the country's interior ministry said.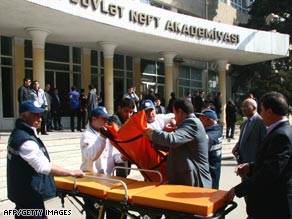 Azerbaijan police move a victim of the attack onto a stretcher.
Ten other people were wounded, of whom seven are in critical condition, after the rampage at the State Oil Academy in the oil-rich country on the Caspian Sea.
The Interior Ministry identified the gunman as Fard Gadirov, an ethnic Azerbaijani with a passport from the neighboring former Soviet republic of Georgia. He was born in 1980, officials told CNN.
He committed suicide inside the Academy building after it was surrounded and sealed off by the police, they said. Preliminary findings showed he had a Makarov pistol with 71 bullets when the shooting began.
The police have not established a motive for the attack.
President Ilham Aliyev is receiving reports on the investigation, the Interior Ministry said, and Russian President Dmitry Medvedev has sent a telegram of condolences, the Kremlin said.
The victims included students from Africa and Asia, the interior ministry said. The academy draws many international students because of Azerbaijan's long connection to the oil industry.
Oil was discovered in the small Caspian state more than 100 years ago. The Nobel family was among the industrialists who developed the local oil industry.
E-mail to a friend

-- CNN's Maxim Tkachenko in Moscow contributed to this report.