LONDON, England (CNN) -- Whoever she was, Carol Ann Duffy is now Britain's poet laureate -- and the first woman ever to hold the prestigious literary post in its nearly 400-year history.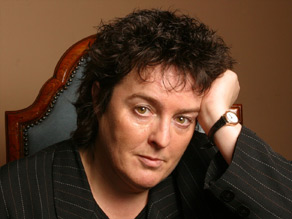 Carol Ann Duffy takes over from retiring poet laureate Andrew Motion, who was appointed in 1999.
Britain's Queen Elizabeth II approved Duffy's appointment, which was officially announced by the Department for Culture, Media, and Sport on Friday.
The honorary royal post is awarded every 10 years to a poet whose work is determined to be of national significance. The title comes from the laurels with which the ancient Greeks traditionally crowned their most celebrated poets, according to Buckingham Palace.
Duffy, an acclaimed poet and playwright, is creative director at the Writing School at Manchester Metropolitan University. She has written numerous award-winning poetry collections, plays, and fairy tales and poetry for children.
"I'm very honored and humbled to become poet laureate, not only when I think of some of the great poets who have occupied the post since the 17th century, but when I think of some of the wonderful poets writing now," Duffy said in a statement.
Her breakthrough came in 1983 when she won Britain's National Poetry Competition with a poem called "Whoever She Was."
Previous poet laureates have been among the greatest poets in the English language. The first to hold the post was Ben Jonson in 1619; others have included John Dryden, William Wordsworth, Alfred Tennyson, John Betjeman, and Ted Hughes.
Originally the office involved writing odes to mark occasions like the sovereign's birthday, but today the position is purely honorary. It is up to the individual poet to decide whether or not produce poetry for national occasions or royal events such as weddings and funerals, according to the palace.
The retiring poet laureate, Andrew Motion, was the first to serve for the fixed 10-year term; it was previously a post for life. Motion became poet laureate in 1999 after Hughes' death.
Motion, who was criticized for writing a rap for Prince William's 21st birthday and for his poems for other royal occasions, said last month he will not miss the pressures of the job.
"I am very pleased to have done it and I am very pleased to be giving it up," he said in an interview in April. "I am particularly glad to give up some of the more problematic expectations that come with it. For instance, I am quite glad not to be throwing myself into a fit of anxiety every time I walk past a billboard saying Prince William is going to get married! After May 1 it will be someone else's problem."
The poet laureate's original salary was £200 ($297) per year plus a butt of canary, which was a large cask of wine, the palace said. Betjeman had the tradition revived in 1972, and today's poet laureate continues to receive a barrel of sherry.
The poet laureate also receives an annual honorarium of around £5,750 ($8,561), paid for by the Department for Culture, Media, and Sport, according to the government.
Duffy has asked for her honorarium to be paid to the Poetry Society, one of Britain's leading arts organizations, to help fund an annual prize for the best collection of poetry published each year, the Culture Department said.
Culture Secretary Andy Burnham praised Duffy for writing works that are both "popular and profound."
"It's a measure of her reach and impact on our national life that her poems can be the subject of serious academic study and, at the same time, be just as at home when families gather for the landmark events of their lives," he said.
Some of the world's most famous poems have been penned by poet laureates. The third man to hold the post, Nahum Tate, is today best known for writing the Christmas carol "While Shepherds Watched Their Flocks by Night."
Tennyson wrote "The Charge of the Light Brigade" while in the role.
Duffy said she was happy to take the job so she can highlight the role poetry plays in everyday life.
"Poetry is all around us, all of the time, whether in song or in speech or on the page, and we turn to it when events, personal or public, matter most," she said in a statement. "I hope to contribute to people's understanding of what poetry can do, and where it can be found."
E-mail to a friend

All About Buckingham Palace • Prince William of Wales