PARIS, France (CNN) -- Traditional May Day celebrations to recognize the achievements of organized labor turned violent in some cities Friday, as workers decried government efforts to deal with the economic downturn.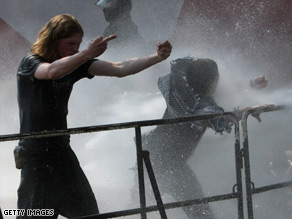 Police use water cannons to disperse protesters at a demonstration in Ulm, southern Germany.
Turkey declared May 1 -- also known as International Workers' Day -- a public holiday, but police in Istanbul were forced to use water cannon and pepper spray to disperse demonstrators, who were forbidden to march in the city's main square.
German police were pelted with rocks and bottles in Berlin, after a post-concert rally turned violent. Police responded with pepper spray, and made several arrests.
In the Philippines, workers demanded more job protection and a stimulus package targeting housing, education and health care.
Hundreds of thousands of Cubans marched for blocks in Havana as part of the nation's yearlong celebration of the 50th anniversary of the Communist Revolution. President Raul Castro was on hand for the mostly political celebration.
France's eight major labor unions were marching together for the first time to mark May Day. Leftist political parties also planned to march with the unions in a show of solidarity. Organizers hoped more than 1 million people would turn out in some 280 demonstrations across France.

May Day rallies around the world in pictures »
That is the figure unions achieved March 19, when, according to French police, 1.2 million demonstrators turned out to pressure the government to do more to combat the economic crisis.
Demonstrators were calling for similar action Friday, expressing anger over government reform policies and recent layoffs.

"Despite the president's claims that he heard people's worries, he is not responding to the citizens' worries," Jean-Claude Mailly of Force Ouvriere, one of the larger unions, told CNN.
The people want results now, he said, warning that if the government keeps failing to help, "there will be a next stage" of protests.
E-mail to a friend

CNN's Jim Bittermann and Jim Acosta contributed to this report.