(CNN) -- Sixteen people were wounded and a guru was shot to death in an outbreak of violence between rival Sikhs at an Indian temple in Vienna, Austria, police said.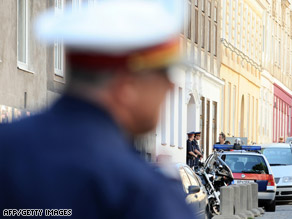 Austrian police secure the area outside a Sikh temple in Vienna where a shooting occured Sunday.
Six people were arrested in connection with the incident, which occurred about 1:20 p.m. local time (7:20 a.m. ET) Sunday in Vienna's 15th district, police spokesman Schwaig Hofar told CNN.
One armed suspect fired at two gurus, and five other knife-wielding suspects attacked congregants during prayer, Hofar said. One of the gurus, a 57-year-old Sikh preacher, was killed.
The number of wounded includes four of the suspects, two of them in serious condition, he said.
About 150 people were in the room when the violence took place, he said. Authorities are investigating what triggered the attacks.
E-mail to a friend

CNN's David Ariosto contributed to this report.