By Paula Newton,
CNN





ROME, Italy (CNN) -- Italian Prime Minister Silvio Berlusconi has told CNN he has never committed a gaffe and that he doesn't like his job much these days.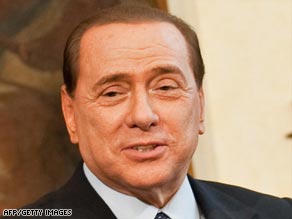 Italian Prime Minister Silvio Berlusconi says newspapers have invented his supposed gaffes.
In an exclusive interview, Berlusconi laid the blame on newspapers.
"I have never made any gaffes, not even one, every gaffe is invented by the newspapers," he said from his office in Palazzo Grazioli, his official Rome residence.
Speaking for more than an hour and clearly more confident than ever, Berlusconi said he now felt his job was a burden. What do you think of Berlusconi?
"I'm still doing everything that I'm doing with a great sense of sacrifice. I have to tell you I don't like it. Absolutely. I would rather be doing what I was doing before or doing something else now, " Berlusconi said. "I'm here because unfortunately right now Berlusconi is considered the only leader capable of holding the center-right together.

Watch Berlusconi's interview with Paula Newton »
"On the opposite side, on the left, there isn't a credible or respectable leader, and so I think this is a cross I must bear and bear it I will with sacrifice for a while until the emergence of people capable of allowing me to go off to be a grandfather, which I would very much love to do," said Berlusconi.
He went on to describe his schedule leading up to the G8 meeting in July as "a nightmare."

Watch Berlusconi's interview in Italian »
The Italian prime minister said he spent more than half his time on international issues and hoped to use his years of political experience to broker some breakthroughs on a range of issues.
On closing Guantanamo, Berlusconi said his country would be open to taking detainees.
Don't Miss
"If we can do a favor for the American people and the U.S. government, we will certainly do it," Berlusconi said, before refusing to say exactly how many Italy would take.
"I don't have those answers. But of course we feel we should do everything possible to lend a hand to the United States. We can't expect them to fight single-handedly on behalf of all of us: Terrorism is a phenomenon that affects us all," added Berlusconi.
It has been a contentious week for the 72-year-old three-time Italian prime minister. He remains mired in political and private scandals involving his impending divorce and a corruption trial.
Despite the swirl of scandal Berlusconi remains popular, consistency scoring approval ratings of more than 60 percent.
He appears to want to use that clout by pressing some issues he says have long been a problem in Europe, like illegal immigration.
Berlusconi defended the new Italian policy of actively patrolling international waters for illegal immigrants and returning them to the ports from where they set sail before they have a chance to claim asylum in Italy.
"We escort them to the ports where they boarded and there, like we just did in Libya, the U.N. agencies can verify in the field if they're entitled to asylum, and we accept those who are. Which is what the United States is doing, all countries are doing it, but they attack us, especially our own opposition and its newspapers, they're turning the problem into something it's not and foreign newspapers are following their lead," he said.
The policy has been criticized by human rights groups and the U.N. but Berlusconi said it was the most humane thing to do.
"Listen, do you think it's human to take these people and put them in a field and keep them in the field for several months with their freedom? And then send them back after two months? I think it is more humane to take them back to where they come from and put them in the hands of the U.N., which will verify if they are in a position to get the asylum," said Berlusconi.
Last week Berlusconi said Italian immigrant detention centers were no better than "concentration camps."
As for the ongoing corruption trial from which he has immunity as long as he remains prime minister, he called it 'scandalous.'
Last week an Italian judge ruled that Berlusconi's British tax lawyer, David Mills, had accepted a $600,000 bribe from him in exchange for false testimony.
Berlusconi said there was no truth to the allegation and he would prove it.
As for the continuing publicity around the trial and his marriage, he said it was all invented by his enemies in opposition and journalists who lacked integrity.

"I think it is disgraceful the conduct of people that invade the privacy and use private matters for political attacks.
"In the face of an accusation of this nature I will speak out, I will explain exactly what the situation is. I will still have the Italians on my side and once again this accusation will act as a boomerang against the people that have started it," said Berlusconi.
E-mail to a friend