LONDON, England (CNN) -- The first woman elected to one of poetry's most prestigious titles has stepped down amid controversy about her Nobel-prize winning rival.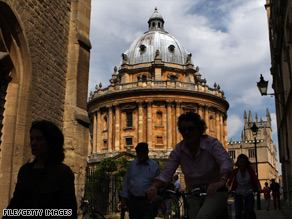 Controversy has hit the post of Professor of Poetry at the University of Oxford, pictured above.
British poet Ruth Padel resigned as the University of Oxford's Professor of Poetry Monday, only days after being elected to the 300-year old title.
Her resignation came amid reports in the British media that she had participated in a campaign to smear her principal opponent by bringing up old allegations of sexual harassment.
Rival poet Derek Walcott, who won the Nobel prize for Literature in 1992, pulled out of the race earlier this month amid allegations about his private life. Walcott, who was born in St Lucia, has won a reputation for his work about life in the Caribbean.
Padel went on to beat Indian poet Arvind Mehrotra to the post following a vote by university graduates and academics.
The position, created in 1708 has seen many distinguished holders including Matthew Arnold, W.H. Auden, Robert Graves, Cecil Day--Lewis and Seamus Heaney
Padel announced in a statement Monday that she was stepping down. "I genuinely believe that I did nothing intentional that led to Derek Walcott's withdrawal from the election," she said. "I wish he had not pulled out.
She added that she did not conduct a smear campaign against Walcott "but, as a result of student concern, I naively -- and with hindsight unwisely -- passed on to two journalists, whom I believed to be covering the whole election responsibly, information that was already in the public domain."
Padel said that she acted in "complete good faith" but could see that "people might interpret my actions otherwise."
Opinion at the university was now divided by the controversy, she said, and so she was stepping down. "I hope wounds will now heal and I wish the next professor all the best."
A university spokesperson said: "We respect the decision that Ruth Padel has taken. This has been a difficult chapter for all concerned and a period of reflection may now be in order."
Padel, whose works have included a series of poems about her great-great-grandfather Charles Darwin, was set to take up the position in October.
The position, created in 1708, has seen many distinguished holders including Matthew Arnold, W.H. Auden, Robert Graves, Cecil Day-Lewis and Seamus Heaney.
Walcott, in a statement to London's Evening Standard newspaper at the time he pulled out of the contest, said he did not want to be part of something "if it has degenerated into a low and degrading attempt at character assassination."
He added: "I am disappointed that such low tactics have been used in this election and I do not want to get into a race for a post where it causes embarrassment to those who have chosen to support me for the role or to myself."
E-mail to a friend