LONDON, England (CNN) -- The pressure on British Prime Minister Gordon Brown intensified Wednesday as the continuing row over lawmaker's expenses claimed a second Cabinet minister in as many days.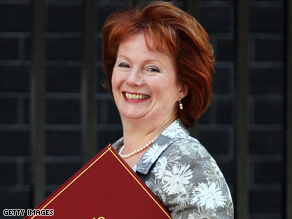 Hazel Blears has held her communities secretary post since 2007.
Communities Secretary Hazel Blears announced her resignation in a statement just two hours ahead of the weekly Prime Minister's Questions session in the House of Commons, saying she wanted to "return to the grassroots (where I began), to help the Labour Party to reconnect with the British people."
Blears had come under fire after it was revealed that she did not pay the appropriate tax when selling a property on which she had claimed the parliamentary second homes allowance.
She later paid back £13,000 ($21,539).
Opposition leader David Cameron said the prime minister had "lost command over his Cabinet," while Liberal Democrat Party leader Nick Clegg said the government, which has been in power since 1997, was "in its death throes."
A day earlier, Home Secretary Jacqui Smith announced she would be standing down during the next Cabinet reshuffle, which is expected to take place after Thursday's crucial European and English local elections.
Smith had become embroiled in the expenses row after listing her sister's London home as her main residence. In March her husband, who also works as her aide, was forced to issue a public apology after he admitted paying for adult movies with taxpayers' money.

Watch more about Smith's departure »
Richard Timney apologized for the "embarrassment" he caused his wife, while she promised to repay the money spent, including the £10 ($14) charge for the two films, the British Press Association reported.
The resignation of Blears will come as no surprise to many, after she appeared to criticize the government in a newspaper article last month for its "lamentable" failure to get its message across.

In an apparent jibe at the prime minister's appearance on video-sharing Web site YouTube, she was quoted by The Guardian as saying: "YouTube if you want to. But it's no substitute for knocking on doors or setting up a stall in the town center."
A total of 15 British lawmakers are now standing down at the next election as a result of The Telegraph newspaper's investigation into MPs' expenses.
E-mail to a friend

All About Gordon Brown • Jacqui Smith