LONDON, England (CNN) -- The premise is simple; take the stories of seven inspiring women and weave them together to form a powerful message about women's fight for equality and justice.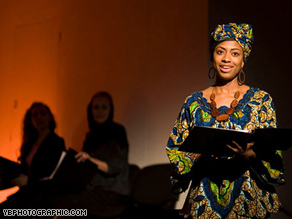 Rachel Holmes as Hafsat Abiola in the play "Seven," during its performance in London, June 1.
London was the latest stop in a string of one-off performance of "Seven," a cleverly crafted play scripted by seven playwrights, featuring seven actresses who take it in turns to share the spotlight.
The women portrayed are members of the Vital Voices network, a non-governmental organization which offers disadvantaged women training and the opportunity to become leaders.
They include Anabella De Leon, a three-times elected Member of the Guatemalan Congress who fought her way out of poverty and through law school to become a fierce critic of corruption within the political system.
"I think that our lives are examples for women in the world, because in spite of adversity we are successful," she told CNN.
"All of us have challenges. Some of us are defending human rights. Others are fighting against corruption like my case. Or others are fighting against trafficking, violence. These are the problems that women are facing in the world," she said.
Seated next to De Leon in the front row for the London performance, was another woman who has fought long and hard for equality, this time in Northern Ireland.
"It was last year that I saw it for the first time in New York and it felt very dislocating to hear part of your life described in your own words," human rights activist Inez McCormack told CNN.

See photos of the play »
The former social worker organized civil rights marches to push for equality during the violent era in Northern Ireland's history known as "The Troubles." Her determination to improve the rights of women saw her become the first female president of the Irish Congress of Trade Unions.
"All of us at some stage in our lives faced a choice either to take an injustice that we experienced or to stand up to it," she said, referring to the other six women in the play.
"I think in one way or another, probably messily, not perfectly, we all stood up to it and from then on it was a lonely, fairly relentless battle not to be named as the problem, [but] to force the system itself to change."
"I think that's probably the deep message that comes out of the play; that women are not the problem, that the structures of power have to change," McCormack said.

The other women whose own words have been used to convey their stories are Mukhtaran Mai, a Pakistani rape victim who brought the issue of "honor crimes" to international attention; Marina Pisklakova, the founder of Russia's first domestic violence hotline; Farida Azizi, who works to empower women in Afghanistan and Mu Sochua, Cambodia's Minister of Women's Affairs who is committed to ending the trafficking and sexual abuse of young boys and girls.
The play first premiered in New York last January. It moves to the Aspen Ideas Festival in Colorado on June 29.
E-mail to a friend