From Michael Sefanov,
CNN





MOSCOW, Russia (CNN) -- The Russian supreme court on Thursday overturned a not guilty verdict and ordered a retrial for four suspects on charges related to the killing of a journalist, a defense attorney said.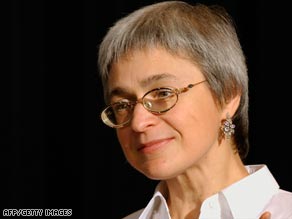 Kremlin-critic Anna Politkovskaya was killed outside her Moscow home in 2006.
The ruling overturns the February acquittals of three men in the October 2006 killing of journalist Anna Politkovskaya. A fourth man, former FSB agent Pavel Ryaguzov, will also be retried after he was acquitted separately of charges that he attempted to extort money in a related aspect of the case, according to media reports.
After a nearly year-long trial, jurors decided in February there was not enough evidence against brothers Ibragim and Djabrail Makhmudovs, and former interior officer Sergei Khadjikurbanov, who were accused as accomplices.
That case was seen as flawed because neither the assassin nor the person who gave the order to kill Politkovskaya were on trial. The alleged gunman is in hiding, and the person who gave the orders is unidentified.
The retrial "decision is politically motivated, and we fully expected it, because they don't really want to find those who are guilty," said defense attorney Murad Musayev.
Politkovskaya, a fierce critic of the Kremlin, was found shot dead in her apartment building. At the time of her death, she was working on a series of reports about Chechnya for the independent, Moscow-based newspaper Novaya Gazeta.
Despite the order for a retrial, it's unclear whether there will be a new investigation, according to a lawyer for the Politkovskaya family. The family has not said whether they will request one.
E-mail to a friend

All About Vladimir Putin • Chechnya