PARIS, France (CNN) -- The 13-year-old girl who survived for hours in the Indian Ocean clinging to the debris of a downed plane arrived home in France on Thursday where she was reunited with her father.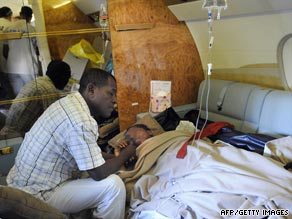 Bahia Bakari holds her father's hand as she lies on a stretcher in a plane after landing in France.
Bahia Basari, who lives in Marseille, escaped with cuts to her face and a fractured collar-bone as the Yemenia Airways Airbus A310 tried to land in the Comoros Islands on Tuesday at the end of a four-stage flight from France.
She is the only known survivor from the crash, which killed her mother.
Shortly after her arrival in Paris, Basari was taken to a hospital with her father where she will stay for a couple of days, said Alain Joyandet, French undersecretary for cooperation.
"She really needs a few days' rest. She will be recovering with her family," Joyandet told reporters in Paris. "She just learned that she has lost her mother."
Joyandet met the girl in a Comoros hospital Wednesday and heard how she was pulled from the sea.
A French reporter accompanied Basari from Comoros to Paris on Thursday, videotaping the teenager lying on a bed with a medical attendant nearby.
The France 2 reporter asked the visibly tired girl some questions on camera. She had several wounds on her face, including a swollen left eye, but said she was feeling "good."
Basari gave short responses to most of the questions, only whispering or just shaking her head.
The flight -- which was carrying 142 passengers and 11 crew members -- had originated in Yemen's capital, Sanaa.
The Airbus 310 plane tried to land at the airport in Comoros' capital, Moroni, then made a U-turn before it crashed, Comoros Vice President Idi Nadhoim said.
The Comoros Islands are between the east African country of Tanzania and the island nation of Madagascar.
The teen's father, Kassim Bakari, told a French radio network that his wife and daughter were flying to Comoros to visit relatives.
"When I had her on the phone, I asked her what happened and she said, 'Daddy, I don't know what happened, but the plane fell into the water and I found myself in the water ... surrounded by darkness. I could not see anyone,'" Bakari told France Info.
The head of the rescue team in the Comoros told French radio RTL that the teenager survived astonishing odds to survive.
"It is truly, truly, miraculous," said Ibrahim Abdoulazeb. "The young girl can barely swim."
Another rescuer told France's Europe 1 radio the girl was spotted in the rough sea among bodies and plane debris in darkness about two hours after the crash.
Bakari said he did not believe he would see his wife or daughter again after learning of the crash.

Watch more about Bahia's escape »
"She is a very, very shy girl. I would never have thought she would have survived like this," he said. "I can't say that it's a miracle, I can say that it is God's will."
He described how his daughter was ejected from the plane into the Indian Ocean.
"She didn't feel a thing. She found herself in water," he told RTL radio. "She could hear people talking, but in the middle of the night, she couldn't see a thing. She managed to hold on to a piece of something."
Passengers on the flight included 66 French citizens, 54 Comorians, one Palestinian and one Canadian, according to Yemeni and French officials. The crew was made up of six Yemenis, two Moroccans, one Ethiopian, one Filipino and one Indonesian. Read how people survive air crashes
Some of the victims' relatives arrived in the Comoros on Thursday aboard Yemenia's first flight since the crash, as the French government was criticized for failing to charter an aircraft for them.
French and U.S. divers are helping to search for debris and bodies. The French military has detected a rescue beacon, but rescue workers say the wreckage is difficult to reach in deep waters.
The plane's data recorders have yet to be found, said Capt. Mohammed Abdel Rahman Abdel Qadir, a spokesman for Yemen's civil aviation department. A number of potential contributing factors were beginning to appear, he added.
"The weather conditions were indeed very troubling and the winds were very strong, reaching 61 kilometers per hour (38 mph)," he said. "The other thing was that the sea was very rough when the plane approached landing at Moroni airport."
A French official said the nation had banned the plane after it failed an aviation inspection in 2007.
"Since this check-up, we have not seen the plane reappearing in France," said Dominique Bussereau, the transport minister.
Yemenia Airlines was not on the European Union's list of banned airlines, he added.
E-mail to a friend

All About Yemen • Accidents and Disasters • Airbus A310