MOSCOW, Russia (CNN) -- A leading human rights activist was abducted and killed in Russia Wednesday, the organization she worked for told CNN.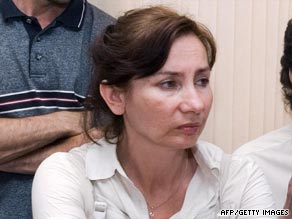 Estemirova, pictured in 2007, had been openly critical of Chechnya's president, Ramzan Kadyrov.
Natalya Estemirova, of the Russian human rights group Memorial, was kidnapped outside her home in Grozny, Chechnya, Oleg Orlov said, citing eyewitness reports.
She was later found dead in the neighboring Russian republic of Ingushetia, said Orlov, the head of the organization's Moscow office.
Estemirova, 50, was a leading human rights activist in the North Caucasus area who had been openly criticizing Chechnya's authoritarian president, Ramzan Kadyrov, and his methods.
Russian President Dmitry Medvedev expressed indignation at the murder and said her killers should be punished to the full extent of the law, his office said.
He expressed his condolences to her family, press secretary Natalya Timakova said.
Estemirova shouted that she was being kidnapped as she was forced into a white Lada automobile that had stopped on the road in front of her house at 8:30 a.m. (12:30 a.m. ET), Orlov said.
An unidentified man grabbed her and shoved her into the car, he told CNN. "This is a kidnapping," she yelled, he said.
Estemirova studied history at Grozny University, then taught history before turning to journalism and human rights in 1998, Memorial said.
She joined the organization in March 2000.
In a written statement, U.S. State Department spokesman Ian Kelly said the United States is "deeply saddened" by the report of Estemirova's death.
"We call upon the Russian government to bring those responsible to justice," he said.
He described Estemirova as "uncompromising in her willingness to reveal the truth regardless of where that might lead. She was devoted to shining a light on human rights abuses, particularly in Chechnya."
The Committee to Protect Journalists, in a written statement, demanded that the killing be thoroughly investigated immediately.
"As she uncovered massive, ongoing human rights violations in Chechnya by the federal and regional authorities, Estemirova was often at odds with Chechen authorities, according to her colleagues," the advocacy group said.
She won three international awards for human rights activities -- including the inaugural Anna Politkovskaya Award, named for the Russian investigative journalist who was herself murdered almost three years ago.
Estemirova was Politkovskaya's "most frequent companion during travel and investigations in Chechnya," the organization Reach All Women in War said in announcing the prize for Estemirova.

"They investigated a number of cases together -- about which Anna wrote for (the newspaper) Novaya Gazeta and Natalya wrote for Memorial's Web site and for local newspapers."
"President Medvedev must make good on his promise to investigate this shocking killing by ensuring that the inquiry is thorough and transparent," said CPJ Deputy Director Robert Mahoney. "The killers of this courageous reporter, one of the few left in Chechnya, must not be allowed to walk free like so many before them."
E-mail to a friend

CNN's Maxim Tkachenko in Moscow, Russia, contributed to this report.