By Till Mayer
For CNN





HOYERSWERDA, Germany (CNN) -- For decades the Iron Curtain divided Germany because the socialist German Democratic Republic did not wish to continue losing its citizens and skilled workers to the "golden" West.
Today the young people in East Germany would prefer to stay at home. Many of them must leave, however, because there are hardly any prospects for them in many regions of the former East. That's the way it is in Hoyerswerda, a town near the Polish border where Sarah Stotzner will soon be packing her bags. She was born in 1989, the year the Wall fell.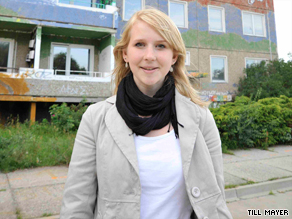 Sarah Stotzner, hopes to return to her home town after going abroad -- but jobs in the former East Germany are hard to find.
She wasn't yet three days old when she experienced her first revolution. For young mothers it truly stank -- due to a shortage of diapers in the Hoyerswerda Women's Hospital. In the maternity ward people's anger was bubbling over and it wasn't only the babies who were screaming.
It is the end of August, 1989. Romy Stotzner holds her newborn, Sarah, in her arms and wonders about all the young women who are protesting loudly. "A year ago they wouldn't have dared," thought the then 23-year-old to herself.
But in the German Democratic Republic, the GDR, another wind had begun to blow, softly at first, until it swelled into a storm that blew the communist regime away. The people of East Germany had begun their peaceful revolution and, little by little, fought for and won the right to free speech, a free press, democracy and German reunification.
When in October 1989 the state leadership under Erich Honecker called on the National People's Army to march, sabers rattling and tanks clanking, in honor of the GDR's 40th anniversary, it was a funeral procession which led with only minimal detours to the cemetery of history.
On August 24, 1989, Romy Stotzner and her husband Delf begin a very different, private adventure. The young couple's first child is born. Their little Sarah has blue eyes, a shock of blond hair, baby fat. Her parents can't get enough of her. All around them the country is in an uproar and falling to pieces, but for both of the Stotzners the content of their baby buggy is what is most important now.
The two education students are thrilled with their own small piece of happiness in Apartment Building 10, AB 10 for short. A 45-square meter apartment with a kitchenette in a standardized prefabricated tenement with thick, gray concrete walls and a stairwell which the wind whistles through from outside.
Don't Miss
Their apartment in AB 10 is just over a year old. Everything works perfectly, even the aging black-and-white television. And the living room boasts a brand new couch. It was bought with an interest-free marriage loan of 7,000 DDR marks. They also received an additional monetary gift from the state when their daughter Sarah was born.
In the DDR people got married early, in part because it took less time to be allocated an apartment. They also tended to have children at a young age. After all, everything was in place for them: There was a guarantee of childcare and employment in the socialist state.
Workplace -- until 1989 that meant the "Schwarze Pumpe" (Black Pump) in Hoyerswerda. That's the name for the massive collective that turned brown coal (lignite) into gas. From the 1950s onwards, the collective turned a once sleepy, small town of 6,000 into a city with massive high-rise buildings and a population of exactly 67,881 in 1989. A socialist model city made of concrete had risen up on a green meadow.
July 2009: The sky is gray and heavy with clouds. The concrete slabs that rise storey by storey into the heavens are also gray on gray. Sarah Stotzner stands next to Apartment Building 10.
The nearly 20-year-old has been living with her parents in a handsome single-family home in Schwarzkollm, a village on the outskirts of Hoyerswerda with old farm houses, front yards with flower beds and a new neighborhood in which houses sprang up one after the other in a ring.
Schwarzkollm has a well-groomed appearance, preserved perhaps even a bit too well. It won a gold medal in a German national competition entitled "Our Village Should Become More Beautiful."
In Apartment Building 10 there is little that would warrant a medal. However, on the walls of one of the buildings an alien grins and profound graffiti covers the wall in a splash of color.
"This is the Painting Slab," says Sarah Stotzner, not without pride. She explains that it is an art project that she worked on with her friends. Together they wanted to paint a labyrinth world in one of the empty apartments.
The destination of all the confusion was supposed to have been Hoyerswerda. Unfortunately, the young people didn't manage to finish their project. "What a pity. It makes me a bit angry," says Sarah Stötzner.
"Stay a while!" is written at the top of the slab, the top of the wall of the prefabricated tenement. A futile wish -- the building will soon be torn down, perhaps along with the one next door, where there are also rows of orphaned, dark windows next to one another.
And on the playground behind the building, only the wind plays on the swing. Everything appears to have been abandoned. The former supermarket of the AB has been closed for a long time.
"Later we lived in AB 9," says the blonde. That was on the other side of the street. The building has been torn down and has disappeared from the face of the earth. Yet another relic of the GDR has been erased.
The DDR -- for Sarah Stotzner it's just history. A system ended in the year of her birth that she knows only from school and from her parents' tales. "When I think of the DDR, I always think of the Stasi -- the state security forces," she says.
But somehow it's still difficult for her to conceive of the former state an unjust system in general. "I don't believe that everything was wrong -- the many social benefits, for example, or the idea that all people are equal," says the young woman.
An economy of scarcity, the Iron Curtain, informants and party big-wigs -- the dark side of real socialism are just stories for her. Real for Sarah Stotzner are the weaknesses of the market economy.
The end of the "Black Pump" followed reunification, essentially draining the veins of Hoyerswerda. In 2008 there were only 39,214 inhabitants left and, according to predictions, this number will continue to fall until it reaches 30,000.
"It's unbelievable that my parents were happy back then when they were allotted their small apartment," thinks Sarah Stotzner.
Today in Hoyerswerda there is too much residential property and the wrecking ball demolished 7,150 apartments between 1990 and 2008. This year another 830 will be added to this number, and 500 more by 2010. Hoyerswerda keeps shrinking and shrinking.
That pains Sarah Stotzner. She shows us the small Old Town. Everything here has been beautifully restored. On one street the colorful, old homes of tradesmen nestle up against one another. The young woman loves this city, even the prefabricated concrete structures and, of course, Hoyerswerda's natural surroundings.
"Lausatia's lake landscape, its many beautifully renovated villages, the forests... I believe the region has much to offer visitors. Hopefully tourism will help Hoyerswerda get back on its feet," explains the young woman.
Naturally she also longs to see faraway places. She was an exchange student for a year in Norway, which is why she finished secondary school one year later than normal.
In September she'll be heading to the Dominican Republic as a volunteer in a new program sponsored by the German Ministry for Economic Cooperation and Development called "Weltwarts," which means "Going out into the World," for young people between the ages of 18 and 28 who would like to volunteer in developing countries.
Sarah Stotzner considers herself to be a European open to the world. She thinks the DDR jokes that are still being told, for the most part in Western Germany, are embarrassing.
"And sometimes it's painful to still have to listen to them. In a seminar someone told me I was from 'Dark Germany', whatever that's supposed to mean," she says.
Her parents did not pass on any East-West stereotypes to her. They are attached to their home but open to the world. The two teachers just returned from a three-year stint in Istanbul.
After a one-year stay in the Caribbean, Sarah Stotzner wants to go to university and, if possible, return to Hoyerswerda.
The latter will prove to be difficult. Hoyerswerda has hardly any jobs at all, especially not for young academics. The city's unemployment rate is almost 20 percent, and it looks even worse among the youth.
There are nearly two applicants for every apprenticeship offered. "That's terrible; Hoyerswerda is getting older and older. We young people hardly have a chance here at all," says Sarah Stotzner.
Meanwhile evening has fallen. We head across the practically deserted market square toward "Ambiente," a small pub with a cool living room-like atmosphere and walls that are painted red.
Sarah Stotzner is going to say farewell to her friends. Susi will be flying to Latvia in two days. Candy will be headed to Chile and Christina is going to Canada. Sweet cocktails help to stave off the melancholy of their parting. The graduates sing karaoke to songs by Jennifer Lopez or old Western hits from the days when the wall still stood.
It's difficult for all of them to leave Hoyerswerda. It's their home, even if the neighborhoods of prefabricated high-rise tenements seem bleak, the list of free-time activities is limited, and several of their friends have already had problems with the skinhead groups that are gaining in popularity.

"But I grew up here. I will miss Hoyerswerda. There are so many positive aspects to the city and the people who advocate for their region. Despite the dismantling of so many things here there's a lot of development as well. It's a pity that the city hasn't been given a better chance at survival," explains Sarah Stotzner.
When will Sarah, Susi, Candy and Christine have the chance to get together again and celebrate? Perhaps at a class reunion in their old hometown. Their new homes will probably be in Munich, Stuttgart, or wherever the unemployment rate is but a fraction of what it is in Hoyerswerda.
E-mail to a friend