(CNN) -- Two Civil Guard agents were killed Thursday in an explosion outside a barracks on a Spanish island popular with tourists, Palma de Mallorca city hall officials said.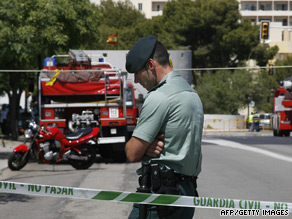 A civil guard officer stands on duty while wounded are evacuated from the barracks in Mallorca.
The bomb, which went off about 1:50 p.m. (7:50 a.m. ET) in the village of Palmanova on the Mediterranean island of Mallorca, was hidden under a parked car, authorities said.
When Diego Salva Lezuan, 27, and Carlos Saenz de Tejada Garcia, 28, drove by the vehicle in their marked Civil Guard patrol car, the bomb was detonated remotely, killing them, officials said.
Spanish Prime Minister José Luis Rodríguez Zapatero called the bombing an "attack ... against all Spaniards" and said that Spanish security would get the perpetrators.
"There is no way they can hide, they cannot run away. We will bring them to justice," he said. "I am determined to fight the terrorists."
In an effort to apprehend the culprits, who authorities said they believe are members of the Basque separatist group ETA, officials shut down Mallorca's major transportation routes.
Police set up roadblocks throughout the island and the Civil Guard at 3 p.m., ordered Mallorca's port closed, the port authority told CNN. Palma de Mallorca airport was reopened three hours after the Interior Ministry ordered it shut down.
Elsewhere in Palmanova, authorities found another bomb underneath a car, the Interior Ministry said. Investigators are inspecting the vehicle and plan to defuse the explosive, the ministry said.
ETA has not claimed responsibility for the attack, which is the second bombing this week to target the Civil Guard. A car bomb Wednesday injured at least 40 people in Burgos. Many of the injured in the northern Spanish city included Civil Guard agents and their family members, said officials at Hospital General Yague.

The Interior Ministry official said the Burgos bombing was also likely orchestrated by ETA, though neither the Civil Guard nor the police received ETA's trademark warning phone call before either attack.
Friday marks the 50th anniversary of the formation of ETA, whose first fatal attack occurred in 1968. Along with Spain, the United States and European Union label ETA a terrorist organization. The group wants independence for the approximately 2 million people that live in the Basque region of Spain. ETA is blamed for more than 800 deaths in its fight for Basque independence.
E-mail to a friend

All About Spain • ETA Separatist Group