From Mike Sefanov
CNN





MOSCOW, Russia (CNN) -- The former Soviet republic of Georgia and one of its breakaway territories, Russia-backed South Ossetia, accused each other of violating the cease-fire that ended last year's Russian-Georgian war, days before the conflict's anniversary.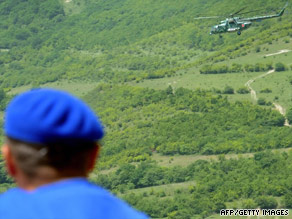 EU monitors watch a Russian helicopter flying near the border between Georgia and South Ossetia on July 29.
The European Union, which monitors the boundary in place since the 2008 conflict, said on Tuesday it had not seen any evidence to confirm either side's claims but expressed concern about the allegations.
"The EU urges all sides to refrain from any statement or action that may lead to increased tensions at this particularly sensitive time," the union said in a statement issued Tuesday.
And in Washington, U.S. State Department official Philip Gordon told a Senate committee that the situation over the weekend was "all too much like the events of last summer."
Days of sporadic clashes between both sides led to a Georgian assault on South Ossetia's capital, Tskhinvali, on August 7, 2008. The following day, Russian troops poured into South Ossetia, which declared its independence from Georgia in the early 1990s after a bloody ethnic conflict between Georgians and Ossetians.
An EU-brokered cease-fire ended the conflict five days later, after Russian troops had driven Georgian government forces out of South Ossetia and Abkhazia -- another Russian-backed separatist territory -- and pushed into Georgian government-controlled territory. Russia said Tuesday that its remaining forces in South Ossetia were on high alert.
"It is an alarming situation. There are incessant provocations from the Georgian side ahead of the anniversary of the events of August last year," Russian Foreign Ministry spokesman Andrei Nesterenko said in a written statement. But he added that both sides' claims have been "contradictory and full of mutual accusations."
South Ossetia's government said Tuesday that three Georgian mortar shells struck outside one of their villages late Sunday, but there were no injuries. It said its troops did not return fire after what it said was the third such incident since July 30.
On Monday Georgian officials said two of its villages and a nearby police checkpoint came under fire from South Ossetian territory, and Russia "stood behind all of these incidents," Georgian Deputy Foreign Minister Alexander Nalbandov said. Russian officials answer "hot line" calls about the report and failed to attend a meeting with the EU border monitors, he added.
Georgia had been cultivating closer ties with the United States and western Europe and was seeking admission to NATO despite fierce Russian opposition. Since the end of the conflict, Russia has recognized South Ossetia and Abkhazia as independent states -- a recognition that only Nicaragua has joined Moscow in observing, said Gordon, the U.S. assistant secretary of state for Europe and Eurasian affairs.
In addition, he said, Russia has yet to withdraw its troops to pre-conflict positions and allow unhindered humanitarian access to Abkhazia and South Ossetia.
The reports of new shelling prompted calls by top U.S. diplomats to both Moscow and the Georgian capital, Tbilisi, over the weekend, the State Department said. Gordon told a Senate Foreign Relations subcommittee Tuesday that the United States was urging Georgian officials to avoid any provocative actions -- "particularly this week, when everything is ultra-sensitive."
"We need to calm it down," he said.
Shota Utiashvili, a spokesman for Georgia's Interior Ministry, told CNN that Georgia has avoided provocations and called for calm. But he urged the international community "to pay attention to Russian statements that are of an alarming nature."
"We don't want the situation to escalate any further," Utiashvili said.
E-mail to a friend

CNN's Nunu Japaridze contributed to this report.
All About Republic of Georgia • Russian Politics