From Yuri Pushkin
CNN





MOSCOW (CNN) -- Water pipes burst during repair work Monday at Russia's largest hydroelectric plant, causing an explosion that killed at least 10 workers and left 68 missing, Russian Emergency Situations Minister Sergei Shoigu told reporters.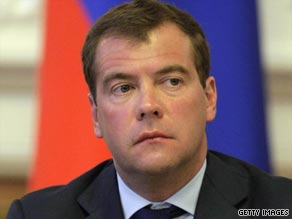 Russian President Dmitry Medvedev sent two government representatives to the accident site.
The incident at Sayano-Shushenskaya hydroelectric plant in southern Siberia caused a major power disruption in the area. Power shortages were reported about 600 miles away in the city of Tomsk and the mining area of Kuzbass.
Federal investigators said a transformer exploded after a sudden change in water pressure caused a pipe to burst during repair work, flooding the engine room where turbines are and destroying walls and ceiling.
Ten people were confirmed dead, 14 were injured and 68 were unaccounted for, officials said.
"At the moment we cannot determine whether these (unaccounted-for) people were down there or managed to get out somewhere, but we know that there were that many people on this shift," Andrei Klyuvev, an emergency situations ministry official at the site, said on Russian State TV.
The plant's dam was not damaged, and the accident posed no threat to towns further south along the Yenisei River.
"I repeat, there is no flood threat to communities located downstream from the accident site," Shoigu said at a news conference. "Chances of the dam bursting are nonexistent."
Russian President Dmitry Medvedev sent Shoigu and Energy Minister Sergei Shmatko to the accident site to take personal control of the crisis.
Two of the plant's 10 turbine engines were destroyed and another one was seriously damaged. Summing up the damage, Shoigu said, "We're probably talking about years rather than months to restore three of the 10 turbines."
The incident created a 3-mile oil slick to spill into the Yenisei River, causing initial concerns about major environmental damage. Since then, however, the spread of the oil has been contained to one area where cleanup crews can begin to work on collecting it, officials said.
The accident disrupted power supply to UC Rusal, Russia's largest aluminum producer, and other enterprises in the region. The smelter was able to obtain power from alternative sources.
An official statement released later noted the possibility of reducing output from UC Rusal smelters to free up energy resources and ensure "stable functioning of the region."
E-mail to a friend