BEIJING, China (CNN) -- Former British Prime Minister Tony Blair said Saturday that no deals were made with Libya while he was in power to arrange the Lockerbie bomber's release, a move that has caused outrage in the United States.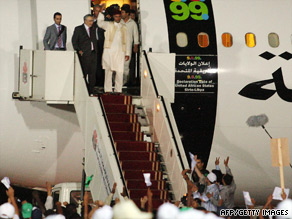 Abdelbaset Ali Mohmed al Megrahi (second from left) arrives in Tripoli, Libya.
In an exclusive interview with CNN, Blair denied claims -- made Friday by the son of Libyan leader Moammar Gadhafi -- that he raised the case of Abdelbeset Ali Mohmed al Megrahi every time he visited Libya as prime minister.
"Let me make one thing absolutely clear. The Libyans, of course, were raising the case for Megrahi all the way along, not just with me but with everybody. It was a major national concern for them," Blair said. "But as I used to say to them, I don't have the power to release Mr. Megrahi." Blair, who stepped down as PM in 2007, was interviewed Saturday by CNN's John Vause in Guiyang, China.
The Libyan leader's son, Saif al-Islam Gadhafi, made his comments in an interview with Libyan channel Al Mutawassit, Agence France-Presse (AFP) reported. The interview was conducted Thursday while he flew with al Megrahi from Scotland to Libya after the convicted bomber's release from prison.
"The release that has taken place is a decision by the Scottish executive, which has taken place on compassionate grounds," Blair said. "Those compassionate grounds didn't even exist a few years back.

Watch Blair tell CNN there was no deal »
"So yes, of course it's absolutely right the Libyans were always raising this issue, but we made it clear that the only way this could be dealt with was through the proper procedures."
Al Megrahi had been serving a life sentence for the 1988 bombing of Pan Am Flight 103 over Lockerbie, Scotland, in which 270 people -- including 189 Americans -- were killed. Scottish Justice Secretary Kenny MacAskill freed al Megrahi after doctors concluded he has terminal prostate cancer and has three months to live.
"All British interests were linked to the release of Abdelbaset al Megrahi," AFP reported Gadhafi as saying, citing the Al Mutawassit broadcast.
"In all commercial contracts, for oil and gas with Britain, (al Megrahi) was always on the negotiating table," Gadhafi said, according to AFP, adding that Blair raised al Megrahi's case each time he visited Libya.
Peter Mandelson, Britain's secretary of state for business, rejected those assertions.
"It's not only completely wrong to make any such suggestion, it's also quite offensive," Mandelson said in an interview Saturday.
"The idea that the British government and the Libyans would sit down and somehow barter about the freedom of this Libyan prisoner to form some sort of business deal ... it's not only wrong, it's completely implausible," he said.
Blair also denied that a major $900 million oil deal Britain signed with Libya in 2004 had anything to do with al Megrahi.
"How could it?" he said. "I wasn't in a position to say so-and-so should be released. That's not the way the British system works. And the release of Mr. Megrahi, as I understand it, has been done by the Scottish executive which, obviously, not only myself, but my successor, has no influence over."
Blair added: "Were the Libyans always raising it? Of course. They always raised it. It's a major issue."
The British Foreign Office also denied the younger Gadhafi's claims in a statement issued late Thursday.
Don't Miss
"No deal has been made between the UK Government and Libya in relation to Megrahi and any commercial interests in Libya," said the statement obtained by CNN. "All decisions relating to Megrahi's case have been exclusively for Scottish ministers, the Crown Office in Scotland and the Scottish judicial authorities."
The newly freed al Megrahi met the elder Gadhafi late Friday in Libya, giving him a hug and kissing the leader's hand. Gadhafi thanked authorities for releasing al Megrahi.
Saif al-Islam Gadhafi also called al Megrahi's release "a victory that we offer to all Libyans," according to AFP.
The U.S. State Department blasted the comments by Saif al-Islam Gadhafi. Assistant Secretary of State P.J. Crowley told CNN that "al Megrahi is a terrorist and mass murderer, and any triumphalism is disgusting."
Both U.S. and British leaders have denounced the hero's welcome that al Megrahi received on his return to Libya, where a flag-waving crowd cheered for him and honked horns.
"We have told the Libyans that he should not be considered a hero -- not today, not ever. The Libyans are aware that their treatment of Megrahi will have a profound impact on our bilateral relationship," Crowley said.
President Obama on Friday said the joyous welcome al Megrahi received after arriving in Libya was "highly objectionable." British Foreign Secretary David Miliband called it "deeply upsetting."
Al Megrahi always maintained his innocence, complaining that he had spent years in prison for something he did not do.

The Libyan government had accepted responsibility for the bombing and compensated victims' families in a $2.7 billion deal that paved the way for sanctions against Libya to be dropped and for Tripoli to improve ties with the West.
But Thursday, after al Megrahi's return, the Libyan official news agency JANA issued a statement from the government saying that al Megrahi had been "a political hostage," as evidenced by his release.
E-mail to a friend

All About Pan American Airways • Lockerbie • Libya