ATHENS, Greece (CNN) -- Firefighters spent a third day battling a spate of blazes on the suburbs around the Greek capital Sunday amid gale-force winds that whipped on the fires.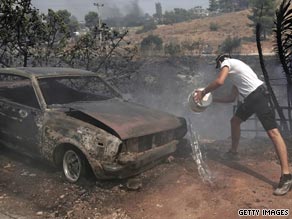 A man attempts throws water on a burning vehicle in Athusa, near Athens, on Sunday.
"I have ashes on my desk, but I'm not smoking. Penteli mountain is," said Alexander Liaros, referring one of the suburbs where fires were raging Sunday.
More than 600 firefighters and soldiers -- aided by residents -- used whatever was at their disposal to bring the blaze under control as the flames inched closer to Athens from the northeast.
The fires come two years after a deadly rash of blazes that killed 65 people and razed thousands of hectares (acres) of forest land in 2007. No fatalities had been reported in the current outbreak, but four people have suffered minor burns during the effort, Information Secretary Panos Livadas said.

Watch as wildfires spread throughout Greece »
Winds ranging from 40 to 60 km/h (25 to 38 mph) were complicating firefighting efforts Sunday afternoon, Livadas said.
"What's extraordinary is the strength of the winds and the unpredictable direction," he said.
Police were asked to help in evacuating the 20,000 residents of the Athens suburb Agios Stefanos Sunday, said Mayor Panagiotis Vorias.

iReporter films battle to stop fires »
"They took to the move as a precautionary measure because the fire there is raging out of control," Vorias said.
Margaritas Mouzas, chief of Greece's Citizen Protection Agency, told CNN at least 1,000 had fled their homes, mostly in the Stamata neighborhood of Agios Stefanos. About 10,000 people did not evacuate, he said.
The government of Prime Minister Costas Karamanlis has declared a state of emergency, and rescue workers evacuated two children's hospitals, summer camps, a monastery and senior-citizen homes early Sunday morning.
After a Cabinet meeting Sunday, Deputy Home Minister Christos Markogiannakis said the situation "remains very difficult" and urged the public to stay calm.
"The worst in these cases is panic," he said.
The fires broke out late Friday in Grammatiko, 25 miles (40 kilometers) northeast of the capital. But ever-shifting winds drove them through a rash of villages within hours.
Authorities reported more than 80 fires across the country that burned down an undetermined number of houses.
Other nations were sending help to battle the flames. Italy has sent two water-drop airplanes, according to Mouzas. France also sent two, and another two are expected on Monday. Cyprus was sending a helicopter. Greece requested help from the European Union on Saturday, officials said.
Just when firefighters thought the blaze was showing signs of abating, gale force winds pumped up the flames once again Sunday.
A fleet of aircraft took off at daybreak to resume water drops. On the ground, residents used buckets of water, fire extinguishers and water hoses to fight a losing battle with the blaze.
The cause of the original fire, which belched clouds of heavy dark smoke, was unknown, and officials were investigating. Forest and brush fires are common during Greece's hot, dry summers.

Maria Stylianaki of Afidnes, just outside Athens, estimated the fire could be as close as two miles from her home. iReport.com: See aircraft combat fire in Greece
"I'm looking at the flames right now and it's very difficult. The planes, it looks like they have stopped flying. I can see some helicopters trying to maintain the line of the fire," she said Saturday in an iReport to CNN.
E-mail to a friend

Journalist Anthee Carassava in Athens and CNN's Saeed Ahmed in Atlanta contributed to this report.