ATHENS, Greece (CNN) -- The capital of Greece appeared safe from wildfires that have raged for days, firefighters said Monday, but they remained on standby in anticipation of flare-ups caused by strong winds.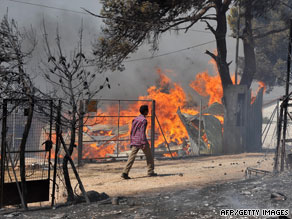 A resident walks in Pikermi, an eastern suburb of Athens, Greece, where wind was fanning flames Monday.
Firefighters scrambled Monday to exploit a lull in gale-force winds that had hampered firefighting efforts over the weekend. But despite the calmer weather, some strong gusts of wind Monday morning grounded four water-dropping flights, officials said.
Monday's winds flamed new fires farther southeast of Athens, in the cities of Pikermi and Kallitechnoupolis.
And a dozen nuns were rescued from outside of Athens when flames engulfed their convent in Nea Makri, officials said.
At least 90 wildfires have burned since Friday, devouring hundreds of homes and 15,000 hectares. About six major fires still raged throughout the country Monday. Are you there? Send us your pictures
No fatalities have been reported, but four people have suffered minor burns, Information Secretary Panos Livadas said.
As a precaution, 20,000 residents of the Athens suburb of Agios Stefanos were evacuated Sunday. An additional 10,000 stayed behind, putting up a desperate defense of their properties.

Watch as thousands evacuate their homes in Athens »
Don't Miss
The government of Prime Minister Costas Karamanlis has declared a state of emergency, and rescue workers evacuated two children's hospitals, summer camps, a monastery and senior citizen homes early Sunday.
The fires broke out late Friday in Grammatiko, 25 miles (40 kilometers) northeast of the capital. Ever-shifting winds drove them through a cluster of villages within hours.

iReporter films battle to stop fires »
Other nations were sending help. Italy has sent two water-drop airplanes. France also sent two, and another two were expected on Monday. Cyprus was sending a helicopter, and Greece requested help from the European Union on Saturday, officials said. iReport.com: See aircraft combat fire in Greece

The cause of the original fire, which belched clouds of heavy, dark smoke, was unknown, and officials were investigating.
It is the worst destruction seen in Greece since a rash of blazes killed 65 people and burned thousands of hectares of forest land in 2007.
E-mail to a friend

CNN's Anthee Carassava and Phil Black contributed to this report.