LONDON, England (CNN) -- The government official who allowed the Lockerbie bomber to go back to Libya defended his decision before an emergency session of Scotland's parliament called Monday amid growing international outrage over the move.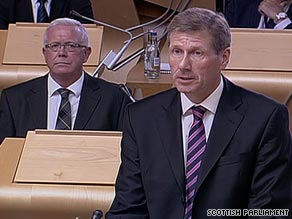 Scottish Justice Secretary Kenny MacAskill says he followed "due process" in releasing Lockerbie bomber.
Scottish Justice Secretary Kenny MacAskill last week ordered the release of Abdelbeset Ali Mohmed al Megrahi on "compassionate" grounds, saying that he was dying of prostate cancer and had just three months to live.
"Those were my decisions and my decisions alone," MacAskill told parliament. "I strictly followed due process."
Al Megrahi, 57, was serving a life sentence for bombing Pan Am Flight 103 over the Scottish town of Lockerbie in 1988, resulting in the deaths of 270 people, including 189 Americans.
MacAskill also said Libyan officials had assured him that al Megrahi would be received in "a low-key" manner. Instead, he received a hero's welcome to cheering crowds.
"It is a matter of great regret that Mr. al Megrahi was received in such an inappropriate manner," MacAskill told an emergency session of the Scottish parliament.
MacAskill, who said he would cooperate with any inquiry into his decision, acknowledged widespread condemnation of the terrorist's release, saying this was beyond his jurisdiction.
"There remain concerns to some on the wider issues of the Lockerbie tragedy," he said. "This is a global issue."
Connect the World
For more on this story, watch Connect the World on CNN TV. 2000 GMT


Monday's parliamentary session was seized on as a chance to pile pressure on the ruling Scottish National Party by opponents from Scottish Labour, which is allied to the Labour Party of UK Prime Minister Gordon Brown.
Responding to MacAskill's comment's, Scottish Labour leader Iain Gray told the meeting that MacAskill had "mishandled this whole affair from start to finish."
"Between the scenes of triumph in Tripoli and the pain and anger at home and abroad, is there anything Mr MacAskill now regrets about his decision and the way it was reached?"
British Prime Minister Brown, who had earlier faced criticism for remaining silent on the issue, said in a statement Monday that freeing al Megrahi would not act as an encouragement to terrorists.
Brown declined to offer any opinion on the release, insisting "It was and it remains a decision for the Scottish justice secretary," a spokesman for the prime minister said, according to the UK Press Association.
The spokesman added: "Clearly the prime minister recognizes this was a very difficult decision, and was clearly an extremely sensitive one, and there will be very strong feelings from the families of those people who were victims of this terrorist attack."
Don't Miss
Anger over the decision has prompted a call for Americans to avoid travel to Scotland and boycott Scottish products including whisky. Both tourism and whisky account for billions of dollars of revenue for the Scottish economy.
"The actions of the Scottish government are inexcusable. A man who is responsible for the mass murder of 270 innocent civilians must be held accountable for such a cold blooded and ruthless act," a statement on the Web site Boycottscotland.com said.
"Unless the Scottish government rescinds this decision to release al Megrahi, and if the British parliament continues to avoid intervening in the matter, we urge all Americans to protest this action by boycotting the United Kingdom and Scotland in full."
It was not known who was behind the Web site, or the extent of its support. Email enquiries from CNN have so far gone unanswered.
The boycott call comes in the middle of the "Year of Homecoming," a Scottish government tourism initiative aimed at encouraging anyone of Scottish descent, mainly Americans, to visit their ancestral homeland.
Condemnation from America over the release of al Megrahi and his subsequent jubilant welcome in Libya has been widespread.
President Obama said Friday that al Megrahi's warm reception was "highly objectionable."

On Saturday, FBI Director Robert Mueller called the Libyan's release "a mockery of the rule of law."
In a letter to MacAskill, he described the Scottish justice minister's decision "as inexplicable as it is detrimental to the cause of justice."
E-mail to a friend

All About Pan American Airways • Lockerbie • Libya