TEHRAN, Iran (CNN) -- Iran has "prepared an updated nuclear package" and is ready to hold talks with world powers, the country's state-run Press TV reported Tuesday.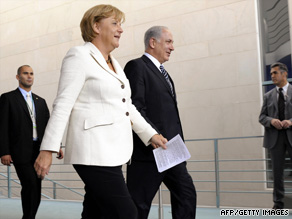 German Chancellor Angela Merkel warned Iran last week it had limited time to respond to nuclear concerns.
Iran will offer the new package to the five veto-wielding members of the U.N. Security Council and Germany, Press TV reported.
The six countries will meet Wednesday in Frankfurt, Germany to discuss Iran's nuclear program, the network said.
"The package being offered by the Islamic Republic of Iran is updated and ready to be presented," negotiator Saeed Jalili said.
"We hope (the new) round of talks will be held to help the world feel progress, justice and peace." Jalili did not say what the new package entailed.
Jalili told the state-run Islamic Republic News Agency that his country "is ready to cooperate in order to alleviate mutual [common] preoccupations in the International arena," IRNA reported in a written statement.
The news comes days after Germany warned Iran that it has a limited time to return to international talks on its nuclear program before it faces stiffer sanctions.
German Chancellor Angela Merkel said she hoped to have a "positive answer" from Iran soon, or else stronger measures would have to be discussed.
Germany has played a leading role in trying to break the diplomatic impasse over Iran's nuclear program, which Tehran says is aimed at generating civilian power but Western nations suspect is to develop nuclear weapons.
The U.N. Security Council has asked Iran to halt its uranium enrichment program, and the International Atomic Energy Agency -- which is the U.N. nuclear watchdog -- has asked Iran to clear up questions about the nature of its work.
According to the IRNA, "Jalali mentioned the crisis in Georgia, the worldwide economic crisis and the U.S. presidential elections as the main reasons for the lack of progress."

Georgian troops attacked pro-Russian separatists in South Ossetia in August 2008, triggering a Russian invasion of Georgia.
"Keeping in mind that one year has passed since the submission of the previous package of proposals, and the changes witnessed on the world stage, the Islamic Republic hereby announces that it will submit its proposals' package," IRNA said.
E-mail to a friend

All About Iran • International Relations • Nuclear Weapons • Israel