LONDON, England (CNN) -- "I am praying every day that I will see my parents before I die," the Lockerbie bomber wrote in a plea to be set free from a Scottish jail, previously secret documents released Tuesday by the Scottish government show.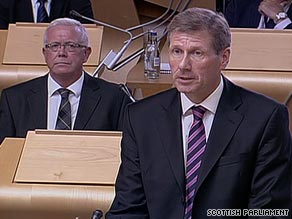 Scottish Justice Secretary Kenny MacAskill says he followed "due process" in releasing Lockerbie bomber.
The handwritten letter from Abdelbeset al Megrahi to Scottish Justice Secretary Kenny MacAskill was published as the Scottish and British governments fight back against allegations al Megrahi was released as part of a deal involving Libyan oil.
Al Megrahi was released last month on the grounds that he has terminal cancer. He was serving a life sentence for the 1988 Pan Am 103 bombing that killed 270 people.
The declassified documents show MacAskill talked to victims' families, to Libyan and American officials and in a face-to-face meeting, with al Megrahi himself before deciding about the release.
Al Megrahi, 57, insists he is innocent in the undated three-page letter, which is in English.
"I am unjustly convicted of a most heinous crime and everything that I am about to discuss with you ... flows from the unjustness of my conviction," he wrote.
"I follow and listen to the comments ... from the victim's (sic) families. I am a family man I am a father of five children. I love them too much," the bomber said.
Al Megrahi expresses "sympathy" for the "unimaginable loss" suffered by the victims' families.
"Some of them have feelings of hatred towards me. I certainly do not return that to them," he wrote.
MacAskill consulted relatives of both British and American victims in July as he considered whether to send Megrahi to Libya to serve out the remainder of his sentence, declassified documents show.
All of them appear to have opposed sending him to his home country under a prisoner transfer agreement -- especially if that meant an end to his ongoing appeal against his conviction.
"The worst scenario would be for Mr al Megrahi to return to Libya and the appeal to be abandoned and therefore no conclusion found," Pamela Dix, whose brother Peter died on Pam Am 103, told MacAskill, according to Scottish government notes of the meeting.
Kathy Tedesci, whose husband Bill Daniels was also killed in the bombing, spoke to MacAskill the following week by video link with other American relatives.
"She concluded that if Mr al Megrahi were allowed to return to Libya it would feel like the entire investigation and prosecution would have been wasted," meeting notes say.
Top U.S. officials including Secretary of State Hillary Clinton and Attorney General Eric Holder also told MacAskill that al Megrahi should not be transferred to Libya, declassified Scottish government papers show.
MacAskill ultimately rejected the Libyan government's request that al Megrahi be transferred there to serve out his sentence, on the grounds that the U.S. government and victims' families had been assured that anyone convicted of the bombing would serve their time in Scotland.
But having rejected the prisoner transfer application, he then released al Megrahi on compassionate grounds because of his cancer -- actually setting him free rather than simply changing the place he served his sentence.
In his letter to MacAskill, al Megrahi pleaded to be allowed to be with his own family when he begins chemotherapy for his cancer.
"I need my family for support not simply physical symptoms that inevitably will come with that treatment, and my deterioration but also for their help and affection as I turn to face my destiny," the letter says.
He reiterated many of the same points in his August 6 face-to-face meeting with MacAskill at Greenock Prison in Scotland, according to Scottish notes of the meeting.
And he added that his youngest child dreamed "that his father would be able to pick him up from school to show his friends that he does have a dad," the notes say.
That type of plea seems unlikely to have moved Mary Kay Stratis, whose husband, Elia, was killed in the bombing.
"She spoke of the loss this has been to her, their children, grandchildren and the family of Elia and the sorrow of not being able to say good-bye to him," according to notes of comments she made to MacAskill days after he met the bomber.
And a relative of a person killed on the ground in Lockerbie "has met young people who will never see their parents again as a result of the atrocity," notes of a separate meeting with MacAskill show. The person's name has been blacked out.

Al Megrahi returned to a hero's welcome in Libya -- a scenario some victims' relatives had feared, and one that angered officials including President Obama and British Prime Minister Gordon Brown.
The documents show MacAskill had warned Libyan officials that the victims' relatives would see any "fanfare" as "insensitive."
E-mail to a friend

All About Pan American Airways • Lockerbie • Libya