LONDON, England (CNN) -- Libya warned the United Kingdom that if the Lockerbie bomber died in prison in Scotland, it would have "catastrophic effects for the relationship between Libya and the U.K.," documents declassified Tuesday show.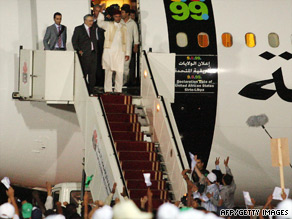 Abdelbaset Ali Mohmed al Megrahi, second from left, arrives in Tripoli, Libya, on August 21.
The statement was made by Abdulati Alobidi, the Libyan minister for Europe, to a British Foreign Office minister in February and was repeated to Scottish officials the following month, newly declassified Scottish government notes from the meetings say.
Alobidi had earlier told Scottish officials it would be "a major problem should Mr. al Megrahi die in prison, and would be viewed as a form of death sentence."
The Scottish and British governments released more than 100 pages of previously secret government letters Tuesday.

Watch more about the documents »
They are trying to squelch newspaper claims that the British government wanted al Megrahi to be eligible for release as a part of a deal allowing BP to drill for oil in Libya.
But they seem unlikely to put an end to the controversy over the release of the man convicted of killing 270 people in the bombing nearly 21 years ago.
Al Megrahi was released from prison last month because he has terminal cancer, and received a hero's welcome in Libya.
U.S. President Barack Obama reacted strongly to al Megrahi's welcome, calling it "highly objectionable." U.S. officials, including FBI Director Robert Mueller, criticized the decision to release him.
British Prime Minister Gordon Brown and Justice Minister Jack Straw have forcefully denied the claim that he was freed as part of a deal over oil.
But Scotland's leaders had long feared that the warming of relations between Libya and Britain would force Scotland to hand over al Megrahi, the documents indicate.
Scottish First Minister Alex Salmond expressed his concerns repeatedly to the central government in London starting in June 2007.
"No deal has been done to secure the transfer of Mr. al Megrahi to Libya," Straw's predecessor, Lord Charles Falconer, wrote back to him on June 22, 2007.
"We have made clear (to Libya) on diplomatic channels that, for any reason, any Prisoner Transfer Agreement with Libya could not cover Mr. al Megrahi," Falconer said, adding that under the terms of relations between London and Edinburgh, any steps regarding al Megrahi's future "will ultimately be for Scottish ministers to take."
Straw wrote to his Scottish counterpart in September 2007 to say London would seek to exclude al Megrahi from any deal for Libyans convicted in the United Kingdom to serve their sentences in Libya.
"My officials will make clear to the Libyan authorities that without this addition it will not be possible to conclude a prisoner transfer agreement," he wrote to Scottish Justice Secretary Kenny MacAskill.
Just under three months later, he told MacAskill he was reversing himself.
"I have not been able to secure an explicit exclusion," he said in a letter of December 19, 2007.
Libya approved a huge oil exploration contract with BP four days later.
Straw had told MacAskill that he was backing down "in view of the overwhelming interests of the United Kingdom."
Scottish First Minister Alex Salmond then asked him what those "national interests" were, the letters indicate.
"Having sponsored terrorist attacks in the past, it (Libya) is now an important partner in the fight against terrorism," Straw replied, also citing the fight against illegal immigration.
When al Megrahi was ultimately released last month -- on MacAskill's orders -- it was because he had terminal cancer, not as part of a prisoner transfer agreement.

He had been serving a life sentence for the December 21, 1988, bombing of Pan Am 103.
MacAskill had jurisdiction over al Megrahi because the bomber was serving his sentence in Scotland. The plane blew up over the Scottish town of Lockerbie. All 259 people on the plane died, as did 11 people on the ground below.
E-mail to a friend

All About Pan American Airways • Lockerbie • Libya