LONDON, England (CNN) -- Lockerbie bomber Abdelbeset Ali Mohmed al Megrahi has been at the center of a furious controversy over his release from prison, forcing Prime Minister Gordon Brown to deny that London made a deal with Libya to set him free. Here CNN explains the complicated case.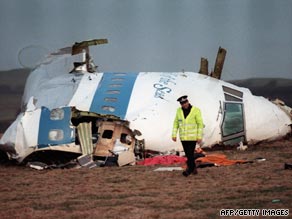 The Lockerbie plane bombing in 1988 killed 270 people.
Q: Who is Abdelbeset Ali Mohmed al Megrahi?
A: Al Megrahi, a Libyan, was convicted of bombing Pan Am Flight 103 in December 1988, killing all 259 people on the plane and 11 people on the ground below in Lockerbie, Scotland.
It was the world's deadliest act of air terrorism until the September 11, 2001, attacks on New York and Washington, according to the FBI.
Most of the people on the London-to-New York flight were Americans.
Al Megrahi is the only person to have been convicted in connection with the bombing. A second Libyan man who was tried with him, Al Amin Khalifa Fahima, was found not guilty.
The United States and Britain accused both men of being Libyan intelligence agents.
Al Megrahi was sentenced to serve at least 27 years in jail in Scotland -- where the bombing took place -- for the 270 murders. He has always said he is innocent.
Q: Why has he been in the news so much lately?
A: He was released from prison "on compassionate grounds" in August 2009. Scottish Justice Secretary Kenny MacAskill -- who had authority over al Megrahi because he was serving his sentence in Scotland -- ordered him to be set free because he is dying of cancer.
Al Megrahi got a hero's welcome on his return to Libya, prompting anger from U.S. President Barack Obama, British Prime Minister Gordon Brown, and others.
Don't Miss
After his release, the Sunday Times newspaper alleged that London wanted him to be eligible for transfer to Libya in order to clear the way for a British company to drill for oil in the north African country -- an allegation Brown and other British officials strenuously deny.
Q: Brown and other British ministers insist they did not make the decision to release al Megrahi, that the Scottish government did. But isn't it all one country?
A: Scotland has a "devolved" government, which means it has some control over its own affairs, independent from the United Kingdom's central government. Edinburgh, not London, had authority over al Megrahi when he was in prison in Scotland.
Q: Does that let London off the hook?
A: No. Two different ways of releasing al Megrahi were on the table: compassionate release because of his cancer, or a "prisoner transfer agreement," under which he would be sent back to Libya to serve the rest of his jail sentence there.
Prisoner transfer agreements fall under the category of international relations, so the UK central government handles them -- not Scotland.
Scotland fought hard to keep al Megrahi out of the general prisoner transfer agreement that London negotiated with Libya in 2007, declassified government documents show.
UK Justice Secretary Jack Straw first assured the Scottish government he would tell the Libyans that the UK would not agree to any prisoner transfer treaty unless al Megrahi was specifically excluded, his declassified letters say.
But only three months later he told Edinburgh he was giving up efforts to keep al Megrahi out of the deal "in view of the overwhelming interests for the United Kingdom."
In other words, London -- not Scotland -- gave in to Libyan demands that al Megrahi be eligible for transfer, even while insisting that the actual decision about whether to transfer him would be Scotland's.
Scottish government papers show a top Libyan government minister warned British and Scottish officials it would be "catastrophic" for British-Libyan relations if al Megrahi died in prison.
Q: So how was the decision made to release him?
A: Scottish Justice Secretary Kenny MacAskill considered a Libyan government request to transfer al Megrahi to Libya to serve out his sentence there.
He talked to families of British and U.S. victims, U.S. Secretary of State Hillary Clinton, U.S. Attorney General Eric Holder, British authorities, Libyan officials, and al Megrahi himself, declassified Scottish government records show.

In the end, he rejected the prisoner transfer request on the grounds that the U.S. government and American victims' relatives had been assured that anyone convicted of the Lockerbie bombing would serve their sentence in Scotland.
But separately, he approved al Megrahi's request for compassionate release, saying doctors believed the bomber had only about three months to live.
E-mail to a friend

All About Pan American Airways • Lockerbie • Libya