LONDON, England (CNN) -- The Scottish Parliament on Wednesday formally condemned the decision to release Lockerbie bomber Abdelbeset al Megrahi from prison in a blistering rebuke to the government that made the decision.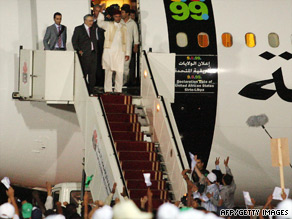 Abdelbaset Ali Mohmed al Megrahi, second from left, arrives in Tripoli, Libya, on August 21.
In a resolution approved by a majority of 73 to 50, lawmakers said Scottish Justice Secretary Kenny MacAskill had "mishandled" the decision to free al Megrahi and criticized him for meeting personally with the Libyan as he gathered evidence.
The parliament "considers that justice and compassion for the victims' families have not been served by this process," according to the resolution, which is largely symbolic.
MacAskill ordered al Megrahi released from prison last month on the grounds that he was dying of cancer -- but the resolution also said he did not have sufficient medical advice to make a judgment about the bomber's prognosis
Al Megrahi was serving a life sentence for the 1988 bombing of Pan Am Flight 103, which killed 270 people, including 11 people on the ground. The plane exploded over the Scottish town of Lockerbie, as it was flying from London to New York.
Meanwhile, CNN has learned al Megrahi is "in bad shape" and has been hospitalized for the past four days, but is not in immediate danger of death.
A senior Libyan government official who has direct contact with al Megrahi said his health has "weakened" significantly since he was freed.
Earlier Wednesday, British Prime Minister Gordon Brown insisted there was no "double-dealing," no oil deal and no private assurances to Libya in an effort to secure the release of al Megrahi.
Don't Miss
Brown took time out from an event in Birmingham, England, to address the issue a day after the British and Scottish governments released more than 100 pages of previously secret documents regarding the decision to free al Megrahi.
Since al Megrahi's release there has been speculation that Britain pushed for him to be eligible for release as part of a deal allowing energy company BP to drill for oil in Libya.
"Our interest throughout has been to strengthen the coalition against international terrorism," Brown said. "I made it clear that for us there was never a linkage between any other issue and the Scottish government's own decision about Megrahi's future."
Brown added, "On our part there was no conspiracy, no cover-up, no double-dealing, no deal on oil, no attempt to instruct Scottish ministers, no private assurances by me to (Libyan leader Moammar) Gadhafi."

Watch Brown explain why al Megrahi's release was a Scottish matter »
British Foreign Secretary David Miliband also defended the government Wednesday, telling the BBC in a radio interview that Britain never made any deal with Libya in connection with the case.
"What I think comes through very, very strongly from all of the papers that were published yesterday is that Megrahi's release was not in the gift of the British government, (and) that at every stage we said this is a matter for the Scottish government and for the Scottish justice minister," Miliband said.
The documents show Libya warned the United Kingdom that if al Megrahi died in prison in Scotland, it would have "catastrophic effects for the relationship between Libya and the UK."

Watch more about the documents »
The statement was made by Abdulati Alobidi, the Libyan minister for Europe, to both British and Scottish officials. Alobidi said Wednesday he mentioned the concerns to then-Foreign Office minister Bill Rammell.
"I told him ... if he dies in prison, it will have a very bad impression in Libya, on Libyan public opinion, Islamic and Arab public opinion, and we hope that we can find a legal way ... to help him to die among his family," Alobidi told Sky News from the Libyan capital of Tripoli.

Alobidi said Rammell promised him that Britain did not want to see al Megrahi die in prison, but couldn't make him any promises. And Alobidi reiterated that al Megrahi's release was not linked to an oil deal.
"In my negotiations with the British and the Scottish, I didn't mention anything about trade relations, but I said dying in prison will draw shadows in our (relationship), and it will deteriorate for sure," he told Sky.
E-mail to a friend

CNN's Nic Robertson contributed to this report.
All About Pan American Airways • Lockerbie • Libya