Ayaan Hirsi Ali is a Somalia-born writer, activist, and former member of the Dutch Parliament. She is an outspoken advocate for women's rights in Islamic society and a strong critic of Muslim extremism.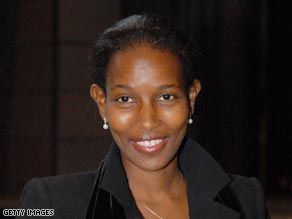 Outspoken critic of Islam, Ayaan Hirsi Ali
Hirsi Ali fled to the Netherlands in 1992 to escape an arranged marriage in Africa, and served as a member of the Dutch parliament from 2003 to 2006.
In parliament, she promoted the integration of non-Western immigrants into Dutch society and defending the rights of women in Dutch Muslim society.
In 2004, she worked with the late director Theo Van Gogh on the film "Submission," which highlighted the oppression of women in conservative Islamic societies. The airing of the film on Dutch television resulted in the assassination of Mr. Van Gogh by an Islamic extremist, and she went into hiding.
Her memoir, "Infidel," published in 2007, recounts her decision to denounce Islam and become an atheist, and her transformation, she says, from "the world of faith to the world of reason."
Don't Miss
Ayaan was named one of Time Magazine's "100 Most Influential People of 2005," one of the Glamour Heroes of 2005, and Reader's Digest's "European of the Year."
She has also received Norway's Human Rights Service's Bellwether of the Year Award, the Danish Freedom Prize, the Swedish Democracy Prize, and the Moral Courage Award for commitment to conflict resolution, ethics, and world citizenship.
Should women be required to follow their country's dress code or face the legal consequences? Send your questions for Ayaan Hirsi Ali
E-mail to a friend