(CNN) -- A Russian writer who contradicted some authorities by suggesting that the hijacked cargo ship Arctic Sea was carrying something other than timber was fired after he fled Russia because of threats, he told CNN Friday.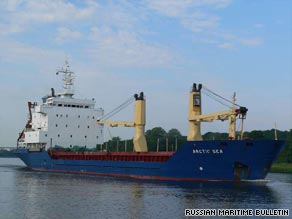 Russian forces retook the Arctic Star without any opposition after reports that it had been hijacked.
Mikhail Voitenko said in multiple media interviews that he caught the first flight to Istanbul, Turkey, this week to escape possible lawsuits or worse for his comments on the Arctic Sea saga.
On Friday, he told CNN by cell phone that he had moved from Turkey to Bangkok, Thailand. Voitenko, who was editor of the online Maritime Bulletin-Sovfrakht, cast doubt on the official account of the hijacking. Sovfrakht is a group of leading cargo companies that operate in Russia and abroad.
Asked whether Voitenko was forced to leave because of intimidation, the company's press office said, "For us, this whole situation is very confusing. So we can neither confirm nor deny those reports (of threats)."

Track reports of the ship's journey »
Sovfrakht's general director, Dmitry Purim, said in a corporate press release that Voitenko told him via telephone that he was resigning. At the time, Voitenko was in Turkey on a business trip, the release said.
According to authorities, the Arctic Sea reported trouble on July 24 off Finland. The crew said eight to 12 armed people, masked and wearing uniforms with "police" written on them, boarded the vessel, the Malta Maritime Authority said. The ship was sailing under a Maltese flag.
When crew members returned home, some media reported that they were told not to contact their relatives for about a week. The Arctic Sea sailed into a Russian port on August 20, nearly a month after it was commandeered.
The Russian navy had taken the ship back from hijackers a few days before without firing a shot. At the time, the ship was about 300 miles (480 kilometers) from Cape Verde, an island nation a few hundred miles from the coast of western Africa. The 15-man crew was unharmed.
Eight suspects were arrested. Russian authorities have opened a criminal investigation into the hijacking case, the Prosecutor General's Office has said.
Voitenko told CNN Friday that he made the move to Thailand partly because it is less expensive to live there. "Sovfrakht will not pay me," he said. "I will have problems with money. Istanbul is expensive. Thailand is cheaper."
Voitenko had indicated to CNN on Thursday that he doubted hijackers would seize a ship carrying what was reported as 6,500 tons of timber from Finland to Algeria.
"My guess is -- and I don't have any other sensible idea -- I think that the vessel was hijacked because it was involved in some secret kind of shipment. Some cargo we don't any more about.
"I don't think that this was a criminal cargo or drugs. I think it's something more important or dangerous."
Voitenko has mentioned to other media that it might have been a weapons shipment, and he isn't the only one who has raised that possibility.
Moscow-based columnist Yulia Latynina speculated that the vessel was secretly shipping arms via Algeria to a rogue state such as Iran or Syria.
The Russian Foreign Ministry said no suspicious cargo was found aboard the ship during a preliminary search when it returned to Russia, according to the state-owned news agency RIA Novosti.
However, a few days later, RIA Novosti quoted Alexander Bastrykin, head of the Investigations Committee at the Russian Prosecutor General's Office, as saying, "We are not ruling out that it may have carried more than just timber."
Russian authorities have opened a criminal investigation into the hijacking case, the Prosecutor General's Office has said.
Sovfrakht said Voitenko announced his resignation "in connection with a number of controversial reports regarding his mysterious 'disappearance,'" and the corporation has accepted it. According to the statement, Voitenko also said he was tired of "lying to everybody."
Sovfrakht didn't elaborate on its statements.
Voitenko insisted he will continue publishing articles online from Thailand.
"I will be working, no problem," he said. " I don't employ workers. Just a computer and the Internet."
Voitenko told The Moscow Times he was pressured into leaving Moscow.

"Some serious guys hinted to me yesterday or the day before yesterday," Voitenko said. "They advised me to return in three or four months," the newspaper quoted him as saying in a phone call from Istanbul.
Asked who the people were, Voitenko replied, "Guess," The Times said. Asked if it was because of his role in the Arctic Sea case, Voitenko said, "Yes, it was because of the Arctic Sea."
E-mail to a friend

-- CNN's Ivan Watson, Maxim Tkachenko and Matthew Chance contributed to this report.