LONDON, England (CNN) -- An oil deal and trade concerns with Libya were at one point considered as factors in the Lockerbie bomber's release, British Justice Secretary Jack Straw said in an interview published Saturday.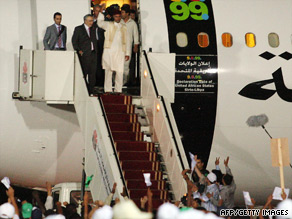 Abdelbaset Ali Mohmed al Megrahi (second from left) arrives in Tripoli, Libya, on August 21.
And Libyan leader Col. Moammar Gadhafi's son, who was involved in negotiating accords between the two nations, told CNN that Libya pressured the British government to include the convicted terrorist in a 2007 prisoner release agreement that was tied to trade deals.
Ultimately, convicted bomber Abdelbeset Ali Mohmed al Megrahi was released on compassionate grounds because he is dying of cancer, a decision that Scottish, British and Libyan officials have said was not linked to oil or trade.
In an interview published Saturday in The Daily Telegraph, Straw said trade and the interests of oil giant British Petroleum were factors in the prisoner transfer agreement.
"Yes, (it was) a very big part of that," Straw told the paper. "I'm unapologetic about that. ... Libya was a rogue state. We wanted to bring it back into the fold. And yes, that included trade because trade is an essential part of it and subsequently there was the BP deal."
Straw's adviser said Saturday that Straw's quotes were accurate, but he emphasized that al Megrahi was not released under the terms of that deal.
"Jack's position has been on the record for some days," said the adviser, who declined to be named in line with policy. "He has never denied that seeking an agreement with Libya over a prisoner transfer agreement was connected to a wider process of normalizing relations with Libya, including on trade, which is in the interests of us all."
Don't Miss
Scottish Justice Secretary Kenny McAskill decided last month to release al Megrahi, who was serving a life sentence for the 1988 bombing of Pan Am flight 103 over Lockerbie, Scotland.
The bombing killed 270 people and was the world's most fatal act of terrorism until the Sept. 11, 2001 attacks, according to the FBI.
The prisoner transfer agreement between Libya and the United Kingdom -- which covers Scotland -- was not a factor in al Megrahi's release.
Still, there have since been allegations that the British government pushed hard for al Megrahi's release because it wanted to appease Libya, which wanted al Megrahi to return home.
The Sunday Times newspaper alleged last week that Britain wanted al Megrahi to at least be eligible for the prisoner transfer agreement in order to clear the way for a deal allowing BP to drill for oil in Libya.
British and Scottish officials have denied that, and this week, British Prime Minister Gordon Brown took time out from a scheduled event to squash the allegation.
"I made it clear that for us, there was never a linkage between any other issue and the Scottish government's own decision about Megrahi's future," Brown said. "On our part, there was no conspiracy, no cover-up, no double-dealing, no deal on oil, no attempt to instruct Scottish ministers, no private assurances by me to (Moammar) Gadhafi."
Scotland fought hard to keep al Megrahi out of the prisoner transfer agreement, according to declassified government documents released this week.
The documents show Straw first assured Scotland he would tell the Libyans that Britain would not agree to any prisoner transfer treaty unless al Megrahi was specifically excluded. But only three months later, he told Edinburgh he was giving up efforts to keep al Megrahi out of the deal "in view of the overwhelming interests for the United Kingdom."
Gadhafi's son Saif al-Islam Gadhafi told CNN that initially, Britain refused to heed to Libya's demands that al Megrahi be included in the prisoner release agreement.
"There was no mention of Mr. Megrahi until the British said, 'we are ready to sign but there should be a clause mentioning that Mr. Megrahi is excluded.' And then we said no," Gadhafi said. "We were very very angry. It's not acceptable."
The agreement was eventually signed and days later, Libya approved a huge oil exploration contract with BP.
It means Britain -- not Scotland -- gave in to Libya's demands that al Megrahi be eligible for transfer, even while insisting that the actual decision about whether to transfer him would be Scotland's.
Ultimately, however, "the prisoner transfer agreement never came into play" in al Megrahi's release, the Ministry of Justice spokesman said.
Saif al-Islam Gadhafi accompanied al Megrahi back to Libya last month.
"The decision was based on compassionate grounds, not because of business deals," Gadhafi said. "It was obvious. The guy is sick, seriously sick. He has cancer and because of that they made the decision and I think it was the right decision."
Earlier this week, a senior Libyan government official who has direct contact with al Megrahi said that his health had "weakened" significantly since he was freed from the Scottish prison last month. He was not in the emergency unit or intensive care, said the official, who did not want to be named, but he was "in bad shape."
Had al Megrahi died in a British jail, Gadhafi said, relations between the two nations would have been strained.
"Do we think we will be happy to let him die in the jail? Gadhafi said. "Of course not. He is a Libyan citizen."

Gadhafi said al Megrahi's release was on the condition that Libya drop any appeals in the Lockerbie case.
"But we are still asking for an independent inquiry," Gadhafi said. "We have nothing to do with Lockerbie and Mr. Megrahi is innocent."
E-mail to a friend

All About Pan American Airways • Lockerbie • Libya