MOSCOW, Russia (CNN) -- A huge cargo ship which disappeared mysteriously for more than two weeks this summer was not secretly carrying advanced Russian missiles, the country's foreign minister said Tuesday.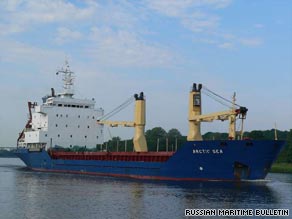 Russian forces retook the Arctic Sea without any opposition after reports that it had been hijacked.
"As for the alleged presence of S-300 systems onboard the dry cargo carrier Arctic Sea, this is an absolute lie," Sergei Lavrov told reporters.
The journalists had asked him about media reports that the ship was secretly ferrying the anti-aircraft missiles to perhaps Iran or Syria.
Lavrov's comments were reported by Russian media, including Interfax.
The Russian prosecutor's office said later on Tuesday the ship was carrying only what it was supposed to have.
"A special team of investigators from the investigation committee of the Russian prosecutor's office is examining the Arctic Sea," the agency said in a statement on its Web site.
"The investigators have carefully examined the cargo aboard the vessel -- wood and timber. Up to this point, investigators have not discovered any other cargo aboard the ship other than what was declared for shipping," the statement said.
"The Arctic Sea is currently in high seas. The work of the investigative group aboard the vessel will continue for several more days. The criminal investigation continues," the investigators concluded.
Maltese officials will be allowed to observe some of the Russian investigation aboard the ship, Lavrov said. The Arctic Sea was sailing under a Maltese flag.
"All this will be carried out transparently," the Russian foreign minister said. "So rumors (that the ship was carrying weapons) are absolutely groundless."
The Arctic Sea was listed as carrying 6,500 tons of timber from Finland to Algeria when it reported trouble on July 24 off the coast of Finland.
The crew later told authorities that eight to 12 people with guns boarded the vessel about 3 a.m. that day, masked and wearing uniforms with "police" written on them.
The Russian navy took the vessel back from hijackers on August 17 without firing a shot. At the time, the ship was about 300 miles (480 km) from Cape Verde, an island nation a few hundred miles from the coast of western Africa. The 15-man crew was unharmed.
Late last month, the country's top investigator said the ship may have been carrying more than just timber. But he did not say what.
"That is partly why the crew members have been held," Alexander Bastrykin, the head of Russia's Investigative Committee, was quoted as saying by Interfax.

"We need to find out whether some of them could have been involved in those events."
British and Israeli media have raised the suspicion that the ship was secretly carrying missiles.
E-mail to a friend

CNN's Maxim Tkachenko in Moscow, Russia contributed to this report.