From Yuri Pushkin
CNN





MOSCOW, Russia (CNN) -- Venezuelan President Hugo Chavez was in Moscow on Thursday to negotiate and sign new oil and gas contracts between his country and Russia.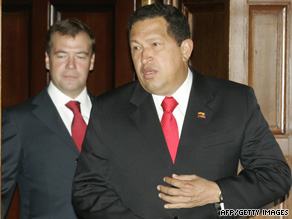 Venezuelan President Hugo Chavez, right, meets his Russian counterpart, Dmitry Medvedev, on Thursday.
"Agreements on cooperation in the oil and gas sector, and in environmental protection, are being prepared for the visit," the Kremlin press office said.
Chavez was meeting with his Russian counterpart, Dmitry Medvedev, and Prime Minister Vladimir Putin.
Initial reports from both sides indicated that new military agreements also may be signed.
"The last document is a framework agreement, which addresses the issues of personnel training, military exchanges and information-sharing between the defense ministries," presidential aide Sergei Prikhodko said in an official Kremlin report.
Under current contracts, Russia has supplied Venezuela with 100,000 new models of Kalashnikov AK-103 assault rifles and plans to supply 24 Sukhoi Su-30MK2 multirole fighter jets and about 50 helicopters, including 34 medium-lift Mi-17V-5s utility helicopters, three Mi-26Ts heavy helicopters and 10 Mi-35Ms thermal-imaging systems.
Russia also is building two plants in Venezuela for the licensed assembly of Russian assault rifles and related ammunition in addition to aircraft and helicopter maintenance centers.
Don't Miss
Thursday's meeting was the first between the two presidents since Medvedev's trip to Venezuela in October 2008.
Also Thursday, Chavez announced during a televised meeting at Medvedev's residence near Moscow that Venezuela has decided to recognize the independent republics of Abkhazia and South Ossetia. Venezuela is the third country, after Russia and Nicaragua, to take that step.
Medvedev immediately thanked Chavez, saying, "Thank you Hugo. You have made a whole set of serious, important statements."
Russia and Georgia fought a five-day war in August 2008 over the breakaway Georgian provinces of South Ossetia and Abkhazia -- the first time Russia sent troops abroad in anger since the fall of the Soviet Union in 1991.
As a result of the war, Russia acknowledged that South Ossetia and Abkhazia were sovereign nations independent from Georgia.
Chavez acknowledged the relationship between Moscow and Venezuela.
"I raise our relationship to strategic partnership in all spheres," he said. "Thank you for your friendship."
E-mail to a friend

All About Hugo Chavez • Venezuela • Russia