By Al Goodman
CNN Madrid Bureau Chief





MADRID, Spain (CNN) -- Spanish energy company Repsol announced Friday a large natural gas find off the coast of Venezuela and visiting Venezuelan President Hugo Chavez was immediately informed, a Repsol spokesman told CNN.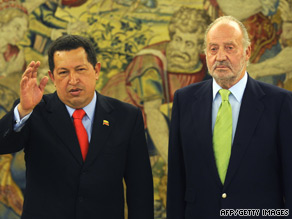 Spanish King Juan Carlos, right, welcomes Venezuelan President Hugo Chavez to Madrid on Friday.
"We've just found this out," said the spokesman, Kristian Rix, in a phone call with CNN.
Repsol believes the discovery might amount to 7 or 8 trillion cubic feet of natural gas, which would be the equivalent of up to 1.44 billion barrels of oil, Rix said.
But he cautioned, "we are still carrying out the final tests. We are still a couple of weeks away from full confirmation."
Repsol has been conducting the tests in the Gulf of Venezuela in conjunction with a partner, Italy's ENI energy company, Rix said.
If the find is confirmed, it would be the largest-ever discovery for Repsol of any energy deposit, Rix said.
The Venezuelan state oil company would then have a 35 percent stake in the operation, with Repsol and ENI splitting the rest, Rix said.
Chavez and Repsol chairman Antonio Brufau met at a downtown Madrid bookstore Friday, after Chavez had met Spanish Prime Minister Jose Luis Rodriguez Zapatero and King Juan Carlos.
Chavez was quoted by Spanish newspaper El Pais, which said it had a reporter at the bookstore, as saying the discovery was "good news" and would make Venezuela a world leader in natural gas as well as in petroleum. He called it a "very large quantity" of natural gas.
El Pais quoted Chavez as citing the potential 7 to 8 trillion cubic feet of natural gas in the find, which Rix, at Repsol, later confirmed to CNN.
Chavez and Brufau then carried on their conversation driving from downtown to the airport, with Chavez at the wheel and Brufau in the front passenger seat, Rix said.
E-mail to a friend

All About Hugo Chavez • Venezuela • Spain • Jose Zapatero