By Al Goodman
CNN Madrid Bureau Chief





MADRID, Spain (CNN) -- Venezuelan President Hugo Chavez ended a sometimes controversial nine-country tour on a quieter note Friday, meeting with top Spanish leaders in Madrid.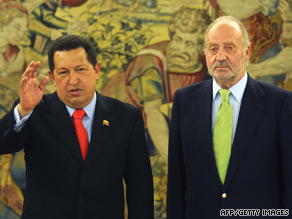 Spanish King Juan Carlos, right, welcomes Venezuelan President Hugo Chavez to Madrid on Friday.
Chavez, while in Russia on Thursday, announced his country has decided to recognize the independent republics of Abkhazia and South Ossetia. Venezuela becomes just the third country to do so after Russia and Nicaragua.
U.S. State Department spokesman P.J. Crowley responded immediately Thursday: "We continue to believe, as do the vast majority of countries around the world, that South Ossetia and Abkhazia are part of Georgia.
"That Russia has found one country plus the Nicaraguan legislature to recognize the independence of South Ossetia and Abkhazia underscores how isolated that view is," Crowley said.
Russia and Georgia fought a five-day war in August 2008 over those two breakaway regions of Georgia.
Chavez earlier visited in Iran, where he pledged to export 20,000 barrels per day of gasoline to strengthen bilateral ties.
He was also in Syria, where news reports said he told thousands at a soccer stadium that Israel's government was "genocidal."
His visit to Spain on Friday was far less controversial than in July 2008 when he shook hands with King Juan Carlos, symbolizing the normalization of relations after the king had told Chavez to "shut up" at a summit meeting in Chile in November 2007. The king had spoken up when the Venezuelan leader repeatedly criticized a former Spanish prime minister.
Chavez on Friday had brief meetings with Spanish Prime Minister Jose Luis Rodriguez Zapatero and later with the king.
A Zapatero aide said that Chavez's visit was not considered official, but merely a stopover made at Chavez's request at the end of his tour to Africa, the Middle East and Europe.
Following "stopover" protocol, there were no planned news conferences. Spanish media reported Chavez said, after arriving Thursday in Madrid, that he expected to talk to Spain on a basis of "equality" and not with "colonial clichés," a reference to the European country's colonial past in Latin America.
Zapatero's office issued a statement later saying he and Chavez had discussed bilateral energy and investment issues, international efforts regarding climate change and Spain's upcoming rotating presidency of the European Union, which starts in January.
They also discussed the recent coup that ousted the democratically elected president in Honduras, and Zapatero reiterated Spain's defense of democracy and condemnation of the coup, the statement said.
Zapatero also offered to assist, if requested, in helping to ease tensions between Venezuela and neighboring Colombia.
During their 45-minute meeting, "both leaders mentioned the good state of bilateral relations," the Spanish statement said.
On his international tour, Chavez also visited Libya, Algeria, Turkmenistan, Belarus and Italy.
E-mail to a friend

All About Hugo Chavez • Venezuela • Spain • Jose Zapatero