Editor's note: Fareed Zakaria is an author and foreign affairs analyst who hosts "Fareed Zakaria: GPS" on CNN on Sundays at 1 and 5 p.m. ET.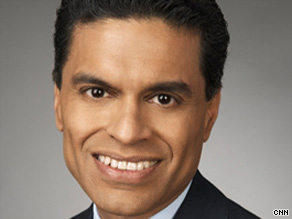 Fareed Zakaria says the U.S. was right to scrap a costly, ineffective missile defense plan.
NEW YORK (CNN) -- The United States is significantly overhauling Bush-era plans for a missile defense shield in Europe, based partly on the latest analysis of Iran's offensive capabilities, President Obama said this week.
The "new missile defense architecture in Europe" will be ready faster, work with existing technology and provide better missile defense than the program proposed by former President George W. Bush, Obama said Thursday.
Iran's short- and medium-range missiles pose the most current threat, he said, and "this new ballistic missile defense will best address" that threat.
A top expert at the Council on Foreign Relations, Senior Vice President James Lindsay, said Obama's decision made strategic sense but does present the president with diplomatic problems.
"Poles and Czechs worry that his decision signals a softening U.S. commitment to their security. Both countries saw the system as a way to tie themselves more closely to the United States and thereby deter an increasingly belligerent Russia," he said.
Obama's Republican adversaries were quick to accuse him of selling out allies to placate Russia.
"Fareed Zakaria: GPS"
A rare and exclusive interview with the president of Russia, Dmitry Medvedev. Have the U.S. and Russia truly hit the "reset" button?
Sunday, 1 and 5 p.m. ET

The "decision calls into question the security and diplomatic commitments the United States has made to Poland and the Czech Republic," said Sen. John McCain of Arizona, the 2008 Republican nominee for president.
CNN spoke with author and foreign affairs analyst Fareed Zakaria about the missile defense decision.
CNN: Did President Obama cave in to Russian demands for scrapping the missile defense system?
Fareed Zakaria: No. I actually think the president's reasons for shifting gears on the antiballistic missile systems for Poland and the Czech Republic are sound. He has traded the fantasy of the system with the reality of what it is.
CNN: You don't think this was an effective system?
Zakaria: Look at the facts. Since the 1980s, the United States has spent well over $150 billion on missile defense. That's more than the total cost of the Manhattan Project or the Apollo mission to the moon. Despite this, in 25 years, the program has not produced any workable weapon system, something unprecedented even in the annals of the Pentagon's bloated budgets.
CNN: But doesn't that mean we need to fix it? Not just scrap it. The world is still a dangerous place.
Don't Miss
Zakaria: That is true, but let's examine the threats that these systems are meant to guard against. A nuclear expert, Joseph Cirincione, pointed out to Congress recently that "the threat [the United States faces from ballistic missiles] has steadily declined over the past 20 years. There are fewer missiles in the world today than there were 20 years ago, fewer states with missile programs, and fewer hostile missiles aimed at the United States. Countries still pursuing long-range missile programs are fewer in number and less technologically advanced than 20 years ago." These numbers are indisputable.
CNN: That may be true, but what about countries such as Iran? It poses a real danger.
Zakaria: Absolutely right, but Iran is not a threat to Poland and the Czech Republic. The system that is being scrapped affects these countries. So basically we have former National Security Adviser Zbigniew Bzrezinski's formulation, "a scheme that doesn't work against a threat that doesn't exist."
The Obama proposal is attuned to the actual threat and proposing a workable response. This is reality-based defense policy.
CNN: Then why has it caused such a negative response?
Zakaria: Because it was handled badly. The missile defense system was seen as a symbolic gesture of the United States' commitment to Poland and the Czech Republic. These allies have been supportive of U.S. policy, and they feel they have been abandoned and wonder whether the "reset" of relations with Moscow is affecting US behavior. The timing of the announcement didn't help: It was on the 70th anniversary of the Soviet invasion of Poland.
CNN: So this was seen as a test on whether the United States was going soft on Russia?
Zakaria: Russia does have a renewed influence in Eastern Europe, and that is definitely a source of concern for both the Poles and the Czechs. And not helping issues is the fact that Moscow had made missile defense into a test of cooperation with Washington. But to continue with a bad policy simply because the Russians don't like it is not the basis for a sensible strategy for the United States.
CNN: On the plus side, will this move mean that Russia will become more cooperative on Iran?
Zakaria: Possibly, but Russia does not feel the same urgency about Iran that the United States does. Russian strategists have pointed out that confrontation between the United States and Iran would probably result in Iranian retaliation in Afghanistan and Iraq, keeping American forces bogged down there. It would hike up the price of oil, bad for America and China, Russia's only geopolitical rivals. And it would keep Russia central to any resolution of tensions.
And yet, the Russians are being moderately helpful. I met with President Dmitri Medvedev in Moscow last week for "Fareed Zakaria GPS," and he went out of his way to insist that Iran had to cooperate with the International Atomic Energy Agency, that Russia was opposed to any development of a nuclear weapons program and that [Iranian President Mahmoud] Ahmadinejad's statement about Israel was "unacceptable." You can hear it from him this Sunday.
CNN: So, overall, you think this was the right thing to do?
Zakaria: Yes. The Obama administration did the right thing for the right reasons in the wrong way. It needs to fix the fallout and move on.
E-mail to a friend

All About Barack Obama • Military and Defense Policy • Iran